New Season, New Coaches for WHB Baseball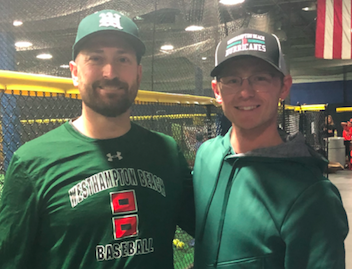 Hang on for a minute...we're trying to find some more stories you might like.
The Hurricane baseball team welcomed two new coaches this year as they begin winter workouts and prepare for the upcoming season. Middle School Math teacher Mr. Grunenwald will be coaching the varsity team and High School Social Studies teacher Mr. Smith will be coaching the junior varsity team.
Coach Grunenwald grew up in State College, Pennsylvania where Penn State University is located. Grunenwald attended St. John's University as an undergraduate and played D1 baseball there for four years.  His position on the team was mainly catcher, but he stepped in as third baseman for a single game. According to NCAA.com  St. John's is ranked 33rd in the U.S. making it one of the best college baseball programs in the country.
After St. John's, Grunenwald attended Hofstra University for graduate school. Since then he has coached many different teams, including but not limited to, Hofstra University and Bayport-Blue Point high school. He is currently a 7th grade math teacher at Westhampton Beach Middle School.
Coach Michael Smith, a local Long Islander, grew up in Patchogue and attended Patchogue-Medford high school. During his high school career, he played on the varsity team with Toronto Blue Jays ace pitcher, Marcus Stroman and even played against Mets pitcher Steven Matz.  After college, he coached at Patchogue-Medford high school for six years as a varsity assistant.
Today, he teaches Global history, Government, and Psychology at WHBHS. Coach Smith spoke about the winter workouts. He said "I think we have been putting in good work this offseason." Both varsity and JV baseball teams practice every week at All Pro Sports academy in Bellport, New York.
Weekly workouts include various fielding drills, hitting in the batting cages, and bullpen sessions for the pitchers. Many players are excited for the upcoming season and shared their thoughts on the new coaches. A sophomore said, "I really like the new coaches, they are very knowledgeable. I think they will definitely help our program get better."
When asked about the upcoming season coach Smith said "My main goal for the season is to be competitive at both the varsity and JV levels".
Personally I am really looking forward to playing under the guidance of these two coaches. They are hands on and committed to putting together a successful program.