Lassoin' in Columbia University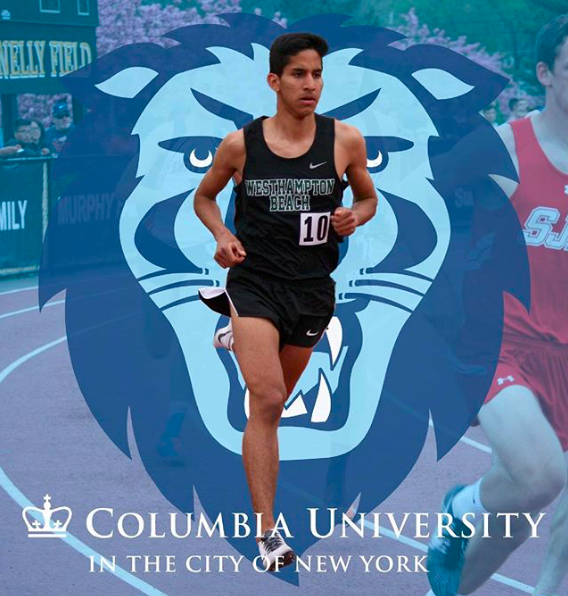 Juan Lasso is going to college.
We all expected this; who didn't? He's a smart kid who runs track. If he didn't get the scholarship, he would've gotten into Columbia with the grades. Juan has helped out many students with those he doesn't know, and those he often talks to. As for track he tells the other kids on the team to either improve something or to work harder to become better.
Juan is also a tutor, he helped many with achieving better grades and getting smarter. He also helps his little sister, Joselyn, with her homework if she needs it. Juan often does something to better himself, like going on runs to get healthy and studying to not remember what he has learned. Without the help of his family, coaches and friends he wouldn't be the man that he is today: hardworking and kind.
Usually, you would know Juan as a record breaking track runner; that's the main reason he's going to college. He is also going for academic reasons because he was on honor roll throughout high school.  Juan credited his parents' support for his success.
"For the past three years I have made sure I perform to the best of my ability in all my classes to set myself up for a good college offer," he said. "At the same time I had to balance that with being able to perform at a very demanding level in athletics. I managed to work it out with my parents' help."
Now, Juan has broken a few school records in track: all-time school recording in the mile distance, time 4:17.33. all-time school record in the 1000m distance, time 2:30.42. And, all-time school record in the 800m distance, time 1:54.80. What amazing accomplishments!
On top of all of his accolades, Juan has also have two injuries.  His leg injury left him out for almost two months.  He later realized that not doing the warm-ups and training was the cause of his injury. So he started paying attention to those little details and did not have an injury for the rest of his junior year.
To be better he has been going to bed very early, eating around 5,000-6,000 calories daily, and training hard. He has also had the support of his family and friends.
Family wise, Juan is going far away while his family is obviously going to miss him. He plans on going back to his family on holidays and maybe even birthdays. Being that he will be in NYC, he needs to only hop on a train to go home for the weekends.
Regardless it was his family that helped him the most with college. "Six years ago my parents began to encourage me to focus on school and athletics so I could get a scholarship to a good school, and that was always my goal and drive. My entire family was always extremely supportive and were always there for me. My friends and teammates are the reason I never lost motivation," Juan shared. He still doesn't know what he's doing after college but he plans on working extremely hard both academically and athletically.
We wish Juan the best of luck next year!