Belle Rings in 1000 Points!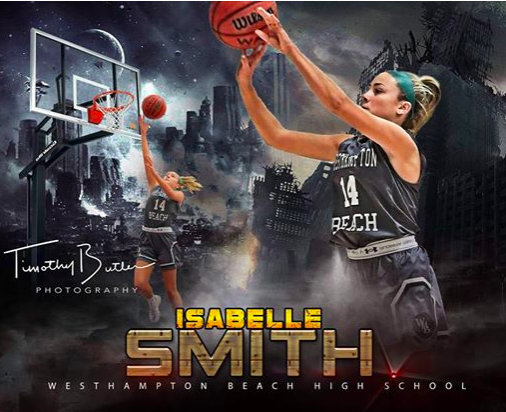 Three-sport athlete, Isabelle Smith, has achieved an accomplishment reached by only six other females in WHB history: scoring 1000 points. And she is only a junior.
On December 21, at the girls' home game against Mount Sinai, Belle reached this accomplishment. She only had to get two more points in this game to reach 1000 points, and just two minutes into the game she did it. She got the ball at half court and ran down, making an easy basket.
Coach Peters, who has coached Belle since 8th grade, said, "Belle brings 100% heart and hustle along with leadership and intensity. She is a smart player who never stops moving on the court."
This is a huge accomplishment for Belle. This is something that she has been working towards since 8th grade, her first year on the varsity basketball team. "Belle's 1000 point milestone is an accomplishment that she has been working towards for years," said Coach Peters.
Reaching this accomplishment wasn't easy. Belle and the rest of the girls basketball team put in lots of hard work and practice all the time. "On average, we'll practice five to six days a week, and two hours on each of these day," said Belle.
As for the future of her basketball career, she hopes to keep working hard and push towards future goals, and as for the team, Belle said, "We like to take it game by game, setting one goal at a time. A big goal is to make it deep into the playoffs."