Summer Swells, Winter Waves
Hang on for a minute...we're trying to find some more stories you might like.
After months of patiently waiting for big waves, local surfers are getting ready for the gnarly winter swell.
5'4mm season is coming quick. Westhampton Beach surfers are gathering their short boards, wetsuits, booties, gloves and hoods to prepare for the icy ocean conditions. This past summer's waves were relatively small and mostly only rideable by longboards or stand up paddle boards. But as the winter approaches the size of the south shore swells increases majorly.
Summer 2018 was perfect for beginner surfers to learn due to the small, long lined, mushy wave structure. The average day on Dune Road consisted of lines of traffic with a longboard in the back of most vehicles. This summer, village beach, Jetty 4 (Lashley Beach), consistently had good waves, mostly everyday the conditions were 2-3ft with a light wind, and around low tide was ideal for the tiny fun waves.
Local surfer Kiley Kaiser recalls a specific day this summer that was one her favorite surf sessions.  She said, "It had been a really nice day and the sun was starting to go down, the waves were small and fast with the occasional barrel, the sets were so consistent it was so much fun."
As the winter weather rolls in, so do the winter waves. Long Island can produce some of the most powerful swells on the East Coast due to the direction that the Island sits in the Atlantic Ocean. With bigger waves comes the need for shorter boards because it allows surfers to catch more powerful waves, do sharper turns, fit in smaller barrels and many other reasons.
Because the midwinter water can be as low as 36 degrees, it isn't appealing for many to go in. "It gets so cold but it's definitely worth it if the waves are good", says EQ local Jake Ongania.
Long Island starts to receive these larger waves in the fall because it's hurricane season and many storms can be found in the Atlantic Ocean, east and north of the Caribbean islands, these storms send the swell up north. Another reason for the barreling structure of the winter water is because of the north wind that can be mostly found consistently throughout the winter.  
Because the winter swells can reach over 10ft, the fall is when a lot of locals prefer to surf. Kiley Kaiser says fall is her favorite surfing season because, "It's not huge, there's not too many people and it isn't too cold yet."
Most can agree with her, including Jake Ongania who says, "Towards the end of fall is my favorite because the waves are usually big, clean and it's not freezing yet."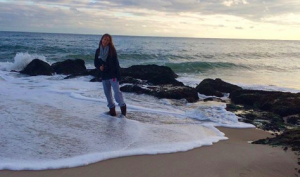 Paige Mignone, Staff Writer
Paige, a junior at WHBHS, has lived in Westhampton her entire life. She loves to surf, do hot yoga and hang out with her friends. Over the summer, she...