Girls' Tennis Team Serving Up An Undefeated Season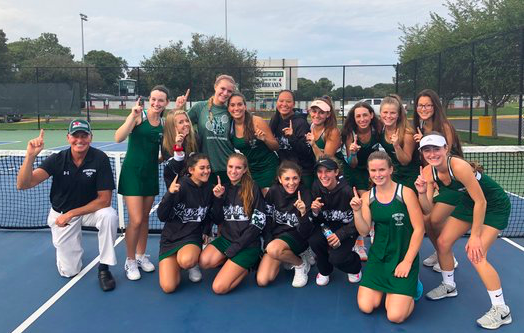 The girls' tennis team is at it again. Their 12-0 record puts them at the number 1 seat in the league, and team has their sights on the county champs.
Seniors Emma Bender, Brooke Del Prete, Onalee Batcheller, Juliet Tomaro, and Marin VanderSchaff are a core part of the team.
In this past week, Emma and Brooke lead the team in first doubles team and defeated their opponents 6-2, 6-2.  Each of the seniors on the court contribute a lot to the team.
According to Coach Ski, he is really going to miss all the starting seniors once the reason comes to an end. Ski has high hopes for the rest of the season. He has been coaching for about 20 years, and the last time the team has won a county title was 2008, so now is the time to gain that back.
He also adds, "Rose Hayes has been an amazing addition to the team. She is a very high caliber player who is nationally ranked."
Rose, a phenomenal athlete, is a freshman this year. She lives in East Moriches and attended Mercy for middle school.  As a 7th and 8th grader, she was a finalist in the county singles tournament for the Mercy Varsity tennis team.
Emma adds, "Rose has been an exceptional player and contributes a lot to the team. She is guaranteed to win the first singles spot and it's very nice knowing that one spot is secured."
In order to prepare for difficult matches, the team goes through a focused warm up including many drills, volleys, and positioning on the court. They also practice over hand serves constantly so they are ready for the match. In addition, Emma and Brooke give a daily pep talk to pump everyone up before every match.
Coach Ski and all the girls hopes to win counties this season. According the Emma, "We have a very good shot and if our team works hard we can definitely make it."