Athletic Spotlight: Hurricane Lukas Budrys
Hang on for a minute...we're trying to find some more stories you might like.
Coming a long way at a young age completely changed the life of senior Lukas Budrys, now a member of our undefeated boys' basketball team.
Lukas was born in Lithuania and came to the US without even knowing a word of English. He started playing basketball at the age of seven, after he turned on the TV and began watching a basketball game that was on. This sparked an interest and motivated Lukas to play.
Lukas plays basketball with his dad and another friend he has outside of school, and continued playing for WHB. Lukas plays small forward on the court, one of five positions. A small forward is considered to be the most versatile of the five positions, and is responsible for scoring points and defending. Lukas is a committed player he said, "I will keep playing the sport until I can't anymore."
While conversing with Lukas' mom, Egle, she stated, "I am really happy that Lukas chose basketball, and is committed to something that can help him succeed in the future."
Not only do Lukas and his dad play basketball, but now Lukas' eight-year-old sister just began playing too. His sister stated, "It's just a loved sport that runs in the family."
Basketball is a very popular sport in Lithuania, and was brought to the country as early as the 1930s, Lithuania became the European Champions in 1937 and 1939. Basketball remained a powerful sport in the country since then. Every year there is a huge tournament called the EuroBasket, and every four year the World Championship. Lithuania has qualified for both events over past 20 years.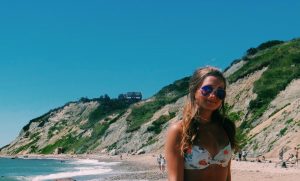 Brittany Gaugler, Staff Writer
Brittany, a senior at WHBHS, is in her first year of writing for The Hurricane Eye. She moved to Westhampton Beach from Southamptonas a sophomore. She...