Athletic Spotlight: Hurricane Nolan Quinlan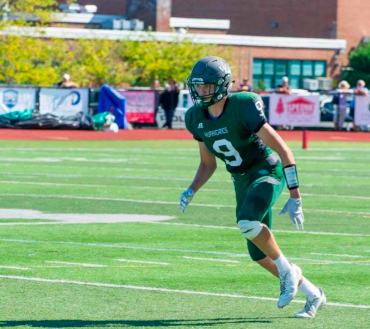 Hang on for a minute...we're trying to find some more stories you might like.
Wide receiver Nolan Quinlan has been a beast this season on the football field. The varsity football team has started the season off with a 4-0 record, so I sat down with Nolan to find out more about him and the team.
At a height of  6'5, Nolan's sports career was set out for him. As a three varsity athlete, he plays football in the fall, basketball in the winter, and lacrosse in the spring. Since fourth grade, Nolan has been a wide receiver on the football field.  He said, "I catch the football and block for the living legend Dylan Laube."
"Beast, unstoppable, legendary, strong," are just a few of the words Nolan used to describe the football team this year. As a key player, Nolan claims the source of success for the team is "experience on the offensive line and Dylan Laube."
Quinlan claims that one of the best plays he's ever made was "a 55 yard touchdown against Half Hollow Hills West where I shrugged off three jacked guys and high stepped into the end zone."  Westhampton defeated Half Hollow Hills West 33-7.
With his future in mind, Nolan would like to continue his football career in college. He said, "Pace University and LIU Post are my top schools right now; I'm hoping for Division II."
Come out and support Nolan and the boys as they take on Comsewogue on Friday, October 13th at 6pm on the turf.