Hurricanes Dominate Rocky Point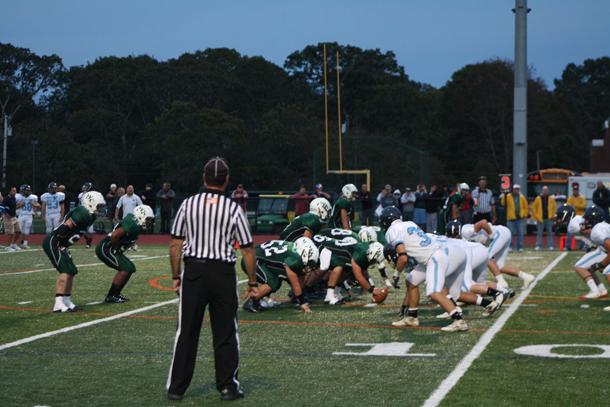 Tyler Yastrub, Staff Writer
September 23, 2011
On Homecoming night, where the weather was perfect and the stands were packed, the Hurrianes football team destroyed Rocky Point, 38-12, behind the roars of the astonished crowd to improve to a 2-0 record.
Throughout the game the Canes' defense seemed to be a significant factor. They were causing problems for the Rocky Point offense and continually returning the ball to our offense, whether through forcing three and outs or making a turnover as they did four times in the game two of which were returned for a touchdown.
Junior Brian Culhane seemed like the biggest contributor on defense with three fumble recoveries and both of the defensive touchdowns, a performance that earned him MSG Varsity Tristate Defensive Player of the Week.
Quarterback Jack Murphy led the offense, and threw for 47 yards, ran for 12 yards, and had two total TDs. The Canes also had four running backs gain a total of 219 yards between them. Evan Gagne (87 yards), Brendan Eckart (64 yards), Dan Gomez (48 yards) and Scott Martin (20 yards). [Stats from Newsday.]
This win did not come as a surprise to the Canes as Frank Zambik predicted before the game, "It should be a decisive victory." Dan Irving agreed, " We are going to do very well."
The Canes went into the game ranked much higher then Rocky Point and the dominant victory will only better their position in Division III. After the game, Tim Murphy (42 rec. yards) said, " The team played great.  It was a fun game to play."
The Canes look to keep improving as they go on to face Sayville @ home tonight, 9/23. Tim Murphy said, "The real focus for the team is Sayville.  We haven't beaten them in 20 years and this is the year we are going to beat them."
After Sayville they Canes will be @ Harborfields 10/1, @ Miller Place 10/6 and @ Islip 10/14. After Sayville the Canes will have their first three road games of the year a true test for WHBHS.