Memorial Day Reminders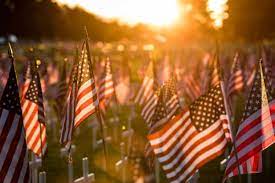 Memorial Day Weekend is finally here. This year we have four days off from school, but it's important to remember that it means more than just a break.
Memorial Day is a federal holiday in the United states for honoring and mourning the U.S. soldiers who died while serving in the military. When Memorial Day first originated, it was called Decoration Day as the way to honor the veterans was to decorate their graves with flowers.
To this day that is still one of the biggest ways to show gratitude to the veterans. The other ways you can honor them are by making a donation to Building Homes for Heroes which helps injured veterans, write letters to soldiers and their families, and participate in the National Moment of Silence on Memorial Day. Pause for at least one minute wherever you are.
Many people spend Memorial Day in different ways. Some take a quick trip or just have a small family gathering. Junior Malone Smith said, "I'm spending the four-day weekend at the beach. It's a perfect time to relax with your family and friends."
It is important to spend this break with loved ones. Junior Emma Sirico said, "I'll be having a family barbecue, then visiting a National Park."
As Memorial Day comes make sure to stay safe and have fun, but remember to take some time to honor the men and women that risked their lives to save ours.