GOP has a Perfect Candidate in 2024, and It's not Donald Trump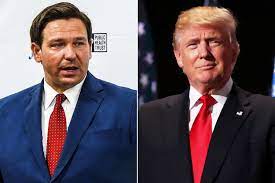 With President Biden's popularity continuing to sink, one can't help but think who the Republican Party will run against him in 2024. One obvious choice is his predecessor, Donald Trump. President Trump has hinted on multiple occasions that he will take a shot at a second term in two years, and political insiders believe he plans on announcing it after the 2022 midterms. But even if Donald Trump wants to run, and ultimately decides to run for president again, is he the candidate that gives the GOP the best chance at reclaiming the White House? The answer is a resounding no. Your nominee in 2024 should not be Donald Trump- it should be the current Governor of Florida, Ron DeSantis.
In 2021, after the events of January 6th, President Trump's popularity took a massive hit. His once loyal supporters were now turning away from him in hopes that normalcy could be brought back to the White House. His biggest criticism while in office, even within his own fanbase, was the fact that his tweets contained vulgar and unnecessary content. According to approval ratings, one huge flaw was his character, even though some considered it a positive feature. The point is- he wasn't Ronald Reagan, and he wasn't particularly close either. While Ron DeSantis might not be perfect, or the savior the Republican Party wants, it's the savior they need.
The general consensus from Republicans across the country during the Trump presidency was that they approved of how he ran the country from a legal and policy standpoint, but was disappointed with his mannerisms, social media posts, and other exterior factors. Ron DeSantis quite literally fits that description of the perfect candidate. He runs his state of Florida and has demonstrated an ideology that coincides with that of Donald Trump. However, you don't see Ron DeSantis tweeting like there's no tomorrow. You don't see him call anybody funny names or losers either. Many people disagree with DeSantis on a lot of different things, but if you're a Republican, Ron DeSantis is your guy. Ron DeSantis is essentially Donald Trump without the Donald Trump character.
Could Donald Trump win a national election today? Perhaps. With Trump out of the equation, DeSantis leads all republican candidates in 2024 odds, recent polling shows. However, if Donald Trump is included as an option, he does maintain a healthy lead over the republican governor.
One can't deny there's a pretty significant section of the Republican Party that despises Trump, so if they decided to run him out there, you would be sacrificing those true conservative John McCain-type voters. But the Democratic Party is in turmoil after months of ridiculous gas prices, inflation, the controversial pulling of soldiers from Afghanistan, and other crises. Some people believe as of now, you could put just about everybody on the ballot and they would beat Joe Biden. Today, according to approval ratings and polling, there would undoubtedly be a "red wave" but the election is two years away, and there's plenty of time for things to change.
Ron DeSantis has played his politics very well. Depending on your viewpoints, he is a very likable guy, or if you're on the other side of the spectrum, he is a human piece of garbage. It all depends where you're coming from. Love him or hate him, Governor DeSantis would be a perfect fit for the GOP in 2024, and would stand a strong chance against any Democrat they decide to represent them. Only time will tell.