School Lunch Leaves Students Hangry
Our lunch has never been this bad.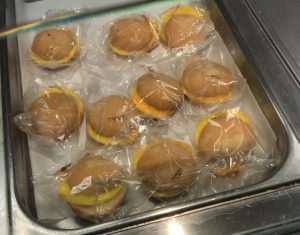 The deterioration of WHBHS school lunch has students infuriated.  With unexpected staff shortages and COVID-19 safety protocols, WHBHS has faced with new struggles to keep the school lunch up to expectations this year.
Over the years our school lunch has really progressed in quality by adding new, fresh components to the every day meal for students.  When students returned from "Coronacation," food quality was at an all time low. Cardboard-like pizza, dog-meat quality burgers, and the loss of fresh, custom wraps really showed the lunch deterioration.
WHBHS junior, Connor Farnan, says, "I'm eating it [the school lunch] right now and it's not awful, but it can definitely be better.  I feel that if they listened to the student's recommendations, it could be better."
Another WHBHS junior, Molly Mensch, says, "There's not a lot of options. I've eaten a bagel for the past week."
Food production is slow and the food quality is deteriorating, leaving students unhappy and hungry. With students not happy about the quality of lunch they were receiving, we took this information to an interview with, WHBHS head lunch director, Mr. Walcott.
The main topic Mr. Walcott brought up during his interview on lunch was COVID 19. "Covid 19 made the school and staff question how long we would be in school.  COVID has also made the ability to get different foods delivered harder. Drinks and snacks that are ordered don't arrive on time and certain foods have to be approved to get by the people above me."
Most students want to know why before school started, they were told us an app would allow students to order a custom wrap and/or pick from a variety of items from the school lunch menu. Mr Walcott said, "The app was held off because of staff shortages and, as of now, we only have one line open rather than two lines with the concession stand, due to the lack of staffing."
Mr. Walcott added, "In the near future when our staff slowly but surely starts to increase in size, we hope to have both lines and the concession stand back up and running.Once we get enough staff, the app will also be in play, and we will have orders being taken to make sure everyone is social distancing."
 We thought the death of Chef Robert also added to the deterioration of school lunch. Mr Walcott said, "Chef Robert can't be replaced, but the quality of the meals did not change because of his death.
COVID has impacted the lunch staff, food stock, and even the ability to keep a well-balanced delicious lunch. Luckily, with a great man in charge, Mr. Walcott, our lunch will improve in the near future with cookies returning, an app to order wraps on, and possibly fro-yo!