Suffolk Giving Up Plastic for the New Year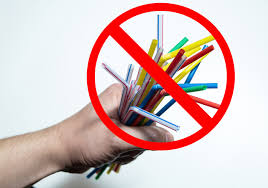 Madison Mosher, Staff Writer, Staff Writer
January 30, 2020
Starting on January 1st, 2020, a new Suffolk County law will require residents to ditch plastic to try and make an effort to helping the environment. 
County Executive Steve Bellone, along with the rest of the Suffolk Legislature, signed the bill in Suffolk County to ban plastic straws in food establishments and self-service beverage stations. This new bill will reduce the amount of plastic being polluted. But how will this affect Suffolk? 
One change is the expense of these biodegradable straws. Legislator Kevin McCaffrey did his own research and found that a restaurant owner in his district of Lindenhurst said, "Biodegradable straws cost 10 times more than plastic ones — it's worth it for environmental reasons." 
Other ways to help the environment is using reusable bags, reuse containers, packing your own lunch, and using a reusable water bottle. Sophomore Madilyn Dackow says, "Even though paper straws are great for the environment, some drinks just aren't fit for them. I had a slurpee a few weeks ago and the straw started to fall apart." 
From my personal experience, some restaurants have more sturdy and longer lasting paper straws. For instance, the straws at Chick-Fil-A and Starbucks are sturdier than the ones at 7-11. 
Whether or not you like a paper straw, your choices of using it will affect the future in the long run.