A "Giant" Rebuild Ahead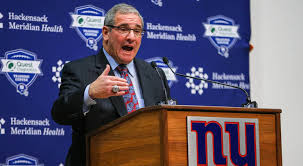 Odell gone. Collins gone. Eli Apple, Damon Harrison, Olivier Vernon … all gone. A roster once hopeful of a Super Bowl run, now dismantled and a fanbase left in dismay. Where does general manager Dave Gettleman take the Giants from here? At this point, we are hopeful the only way is up.
   David Gettleman took the helm of the storied Giants organization on December 28, 2017. Most fans saw this is as a late Christmas gift, and they were in seek of hope after they saw a team that was in a wild-card playoff spot just a year prior tack up the worst winning percentage in franchise history since 1974, bench their former Super Bowl hero Eli Manning for subpar quarterback Geno Smith, and fire head Coach Ben Mcadoo during the middle of the season. Gettelman was fresh off a stint as the Panther general manager, where his team reached Super Bowl 50.
   In 2017, Giants fans were nearing a consensus that Eli was closing in on his final years, Odell Beckham Jr. was a generation talent, and we were in possession of some of the finest defensive players in the league.
    Fast forward to March of 2019, almost every player fans were once raving out is gone. And, yes, Eli Manning is still the starting quarterback. This plan seems all backward, the organization is dismissing younger and proven talent and keeping an old and degrading quarterback. Many Giants fans do not see why Dave Gettelman evaluates Eli Manning as a viable starter for the 2019 season. But luckily, the dismissal of this talent did come with some return. The Giants enter the 2019 NFL draft with the most draft capital out of 32 teams.
   The only way we Giants fans can see this is: Gettelman saw the need for a full reboot. Instead of trying to rebuild a team that was half-good enough with numerous obstacles such as contracts and age restrictions, he chose to take the route of stripping the roster down to the studs and building a new team.
   The Giants need to take their draft capital and select a quarterback, be it this year or next. Dwayne Haskins is a promising prospect out of Ohio State, but a powerful defensive draft class may draw Gettelman away from taking Eli's predecessor. If this is his choice, the Giants must use their two first round picks to solidify the offensive line and take an elite pass rusher. The offensive line is not as far off as it used to be, with Will Hernandez showing a promising rookie year and the acquisition of Kevin Zeitler from the Browns. If Nate Solder is capable of playing up to the level of his contract, the offensive line can be menacing.
   Obviously, the trading of Odell Beckham Jr. left Giants' fans speechless. Personally, I hate to see the life of our team leave to Cleveland. But in the perspective of pure logistics, it is not as bad as it seems. A top-five receiver is not necessary to make a Super Bowl run, like the Patriots, have proved. The movement of Odell brings upon a dead cap hit, but we avoid the mega contract extension he signed in 2018. Ultimately, it might have been necessary to trade Odell to fill some major voids in our offensive and defensive lines.
   The Giants are closing in on rock bottom. Hopefully, some free cap space in the future and our multitude of draft picks will lead the organization away from this and in to its winning ways. But for now, we must sit and watch to see how the rest of the offseason and regular season unfolds.