Mercy Mayhem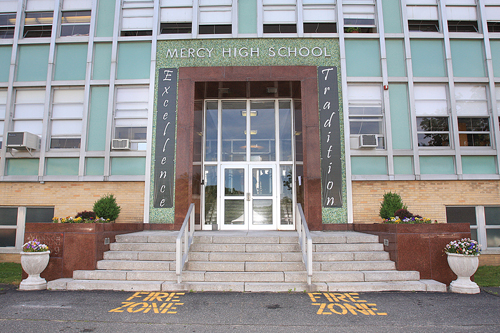 Hang on for a minute...we're trying to find some more stories you might like.
Parents and students were outraged to hear that their beloved school, Bishop McGann Mercy, was decided to be shut down in early June of 2018. In the words of a Maryann Ryan, a young student just starting at Mercy, "It was hard to see Mercy be there one day and gone the next, but Westhampton Beach has been treating me well."
"It was shocking when I found out mainly because I had no idea the school was in that much trouble," said Finn Kelly, who attended Catholic school his entire life before transferring to WHBHS. "I knew I'd be separated from the friends I've been with for my whole high school career."
Many wondered why Mercy closed initially. According to Bishop Barres, who served as the Bishop of Rockville Center Diocese that funded Mercy, it was "because of a number of factors, such as decreasing enrollment and some demographic changes."
Evidently, this was a fraudulent statement.
What really happened was that Bishop Barres was a part of the Diocese of Allentown in Pennsylvania from 2009 to 2016. Recent reports have shown that there were actually sexual allegations made against the priests and bishops in the Diocese of Allentown.
No accusations were made against Bishop Barres, but many were made against his colleagues. The Bishop, wanting to keep up the reputation of the church, paid off the families whose children were victims of sexual assault so they wouldn't involve police.
A parent and coach of Mercy who is now working for WHBHS, Mr. Doroski, says "the numbers just didn't match up." The funding from the Diocese of Rockville Center and other sponsors did not correspond with how much money was going into the school.
Faculty of Mercy assumed something questionable and peculiar was going on and wondered were the money was going. Sources also say there were many fundraisers in which the money was not returned.
One in particular, a football team fundraiser, where they were trying to obtain money for new equipment as well as a new bus, never received money in the first place.
Hardworking families selflessly donated to these fundraisers for good causes and the overall benefits of the school, therefore were extremely angered by this and demanded there money back.
A more truthful statement would be that Bishop Barres misused the funds from Mercy as hush money to pay off the families of the innocent victims of assault. Eventually, after the whole scandal seemed to be an event of the past, the parents of the victims came forward to share these horrid stories their children made them aware of.
In many cases, the children became uncomfortable going to church and being near members of the church. Bishop Barres and the Diocese need to come forward and explain his side of the story—as there are two sides to every story—and not try and hide anything.