Winter Eats – Let's Get Toasty!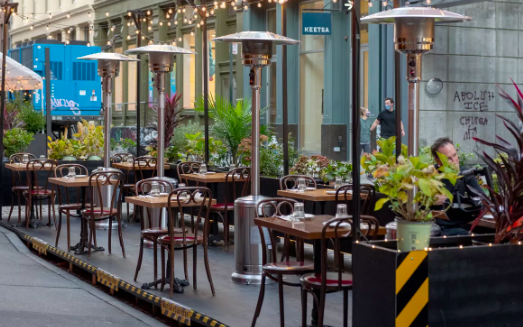 Things certainly have changed in NYC. However, there is one thing that could help keep restaurants afloat is the outdoor heater. Outdoor heaters have become a very important tool to keep restaurants and other businesses open during these colder months and into the winter season. They could indeed save restaurants from closing – simply by allowing customers to sit comfortably outdoors, with a breeze and some warmth.
There has been much interest from a handful of cities in the north, but mostly in the northeast and especially New York City.  The city has gone from having no market for outdoor heaters to being the largest market in the United States, for outdoor heaters. Urbanites are heading outdoors for breakfast, lunch, dinner and in-between – and they are happy to have the glow and warmth of the heater next to them. 
Due to the increased interest in outdoor heaters, the demand for heaters has skyrocketed and manufacturers of these heaters cannot keep up with the increased demand.  Most of the outdoor heaters are made in China and these factories are taking an extra month plus to fulfil orders. Yet, prices for heaters have not risen. Many of these heaters can be found in a variety of energy resources, such as propane, natural gas and electric. It is also interesting to note that the price of gas has not risen either. Some experts say that this is probably due to increased demand.  A theory is that this is likely due to the huge volume of business being able to keep costs down, following the market of supply and demand. 
When out in the field, we interviewed various restaurant owners to ask their biggest concerns as we head into winter and many of them expressed concern about the New York City ban on gas in commercial heat lamps – which was lifted in October to help struggling restaurants – going back into effect. It's worth pointing out that businesses cannot store propane tanks on-site, due to concerns about explosives. Which leads to more concerns for restauranteurs – how to get propane for their heaters. Enter Derek Kaye, who used to manage food trucks before COVID-19 broke and now  runs NYC Propane Delivery, which supplies tanks to restaurants every day. 
Restaurant owners have also gotten creative with their outdoor dining designs, making it all the more enjoyable eating in weather below 40 degrees. Some restaurants have created 'indoor-outdoor' dining spaces, complete with sanitsized faux fur blankets, candle lit table centerpieces and private space heaters. Some have created yurts and seaside bungalows, The spaces are intimate, fresh and fun.
Additional good news has surfaced and will take effect on February 14, 2021, just in time for Valentine's Day. Indoor dining will reopen again in New York City with a maximum capacity of 25%. This is an enormous sigh of relief for restaurant owners as well as all those employed within restaurants. Many restaurants and bars have closed, leaving many out of work. Much has changed in our daily lives since COVID-19 began, but with a little technology, industry and creativity, this will be one lasting restaurant shift that could remain well into the future.