A Look At Long Island's House Races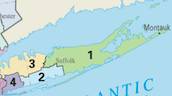 While the presidential election has been the main focus of Americans, the 2020 House of Representatives elections are also worth looking at. All 435 house seats in all 50 states are on the ballot this year, including many competitive races that could flip. New York has 27 seats in the House, with the first four of them located on Long Island (Nassau and Suffolk only). Here's a look at Long Island's House races and everything to know about them.
District 1- New York's first district, which includes most of Suffolk County, is represented Lee Zeldin (R-Shirley), who was first elected in 2014 when he defeated Democrat Tim Bishop. Zeldin is running for a fourth term, where he will face Stony Brook University chemistry department chair Nancy Goroff, who won a competitive primary over Suffolk County legislator Bridget Fleming and 2018 nominee Perry Gershon. The few polls that have been taken show Zeldin leading Goroff and most pundits rate the race as 'Lean Republican'. 
District 2- District two spans the southern part of Nassau and Suffolk Counties. Incumbent representative Peter King (R-Seaford) has decided to retire after serving for 14 terms (28 years). Running for the open seat is State Assemblyman Andrew Garbarino (R-Sayville) and Democrat Jackie Gordon, a former Babylon town councilwoman. The race is rated a tossup by most political pundits and is seen as potential pickup opportunity for House Democrats. However, no polling has been conducted, so the true state of the race is hard to tell but likely it will be close. 
District 3- The third district spans basically the same distance of the second district but is located on the north shore. Since 2017, it has been represented by Thomas Souzzi (D-Glen Cove), and he is running for his third term. The Republican nominee is George A. Santos, a financial executive. The race is rated as 'Safe Democrat' by all pundits and the one poll conducted shows Souzzi leading Santos by 11 points. 
District 4- District four is located entirely in Nassau County, taking up the southern half of the county. Incumbent Representative Kathleen Rice (D-Garden City) has represented the district since 2015 and is running for a fourth term. She faces Republican Douglas Tuman, an attorney. Like the 3rd district, the race is also rated as 'Safe Democrat' by all political pundits and will likely not be close on election day. 
While the final results from Districts One, Three and Four will probably be known on election night, results from the second district will likely take longer due to the competitiveness of the race. Overall, it will be interesting to see the outcome of these races and how they impact the balance of power in Washington in 2021.