Introducing New Varsity Wrestling Coaches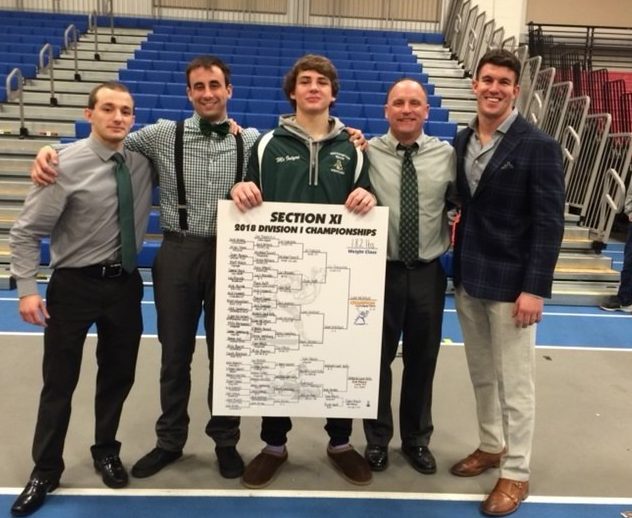 Finally, the new head coaches for the WHBHS wrestling team has been announced and will begin coaching this upcoming season. Former coach, Paul Bass will be missed, as he retired last year after coaching for the past 37 years. There was much anticipation and build up as every former and future wrestler waited for the news. But when the time came and coaches Conner Miller and Andrew Petroulias were announced as the new coaches, everyone was ecstatic.
"We are just trying to continue the legacy that was here before us," Coach Miller stated on behalf of the new coaches. They are not trying to replace Coach Bass or fill his shoes. They are only trying to continue on with the legacy Bass has left behind and hopefully make their own. "We aren't expecting to come in and just be Coach Bass," Petroulias affirmed.
The plan Coach Miller has for the team is to "take what we have learned from Coach Bass, the discipline, the structure, and integrity of the program and put our own twist on it." They do not want to get rid of the way Bass coached and the things he did, they only want to change it and make it their own. 
Coach Miller believes that his background as a strength and conditioning coach will help make the team better as a whole. As he stated, " Myself being a strength and conditioning coach will make the team be in better shape physically and condition wise to go six minutes against our opponents." 
Coach Petroulias also contributes to the team as he has great attention to detail, allowing for him to be great for teaching and helping improve skills. In addition, being slightly smaller he is a better fit to practice one on one with the lower weight wrestlers on the team.
In the end, the main goal will remain the same, as Coach Miller said,  "Make the wrestlers we have now better and continue the legacy left here before us."