WHB's Top 5 Events This Year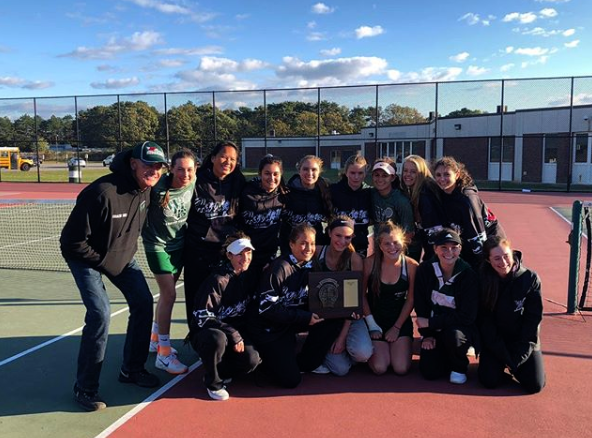 As the 2018-2019 school year comes to an end and the seniors get ready to leave the place they've called home for the past four years, we take a look back on the exciting events of this year: Liam McIntyre getting to proudly wear the #12, Belle scoring 1000 points, the new SRO. But what really was the number one event from this school year? Here are the top five.
Homecoming: The time of the year when the whole school gets together to watch the football team play and show their Hurricane pride. Tori Cummins and Brian Mensch were named Mr. & Mrs. Hurricane and the boys won the game against Miller Place 41-0. It was an all-around great time and a great game for our school.
Girls Varsity Tennis LIC: Back in October, the girls won 4-3 against Syosset. On October 25th, the girls varsity tennis team was the first team in Suffolk County to win the LIC. This was a big accomplishment for the girls, WHBHS and Coach Ski. This win will certainly go down in WHBHS history!
The Musical: Everyone in the drama department was working "9 to 5" to bring the spring musical to life.

9 To 5

was a very light and comedic show, which contrasts what they normally do. The show featured Molly Brennan as Margaret and Isabella Galway who played Doralee. Rosemary Cline did very well directing the show, rendering it to be a huge success.

Junior Prom: On May 3rd, WHB juniors were very excited to attend the Junior Prom at the Westhampton Beach Country Club. The juniors had a blast, which Nolan Cammarata was able to get on camera. This prom will be remembered by the juniors for many years.  Members of the faculty and the staff at WCC commented it was the most enjoyable prom in years due to the juniors excellent behavior.
The Food: It's getting hot out in WHB and people are looking for somewhere to get a cool treat. In the past year or two, acai bowls have become very popular. Recently, Sobol opened a location in WHB next to CVS across the street from Best Market. They have many different bowls and smoothies which are made right in front of you. Make sure to check them out!
Well, that's it! The 2018-2019 school year is over. Next September, the halls will feel empty even though they are still crowded. The seniors we all know now will no longer be here, but countless new memories will be made. Have a great summer WHB!