Business is Booming!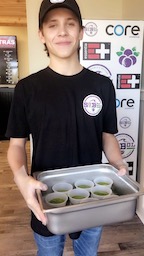 Tired of the same old shops and restaurants? This summer you won't have to worry about that anymore! SoBol, Mary's Pizza and Pasta, Little Lucharitos, Swell Yogurt, Juice Press, Palmer & Purchase, and High End Hippie are some of the new local businesses that you can look forward to visiting this summer.
SoBol, which just opened in WHB is already a very popular place among Westhampton students. The long awaited opening happened on May 22, with a line of eager customers wrapped around the corner waiting for their acai bowls.
At SoBol customers are able to order different types of acai bowls and smoothies. Along with that you are able to add toppings to your bowls, choosing from the long list of options. My favorite is an acai bowl with almond butter!
The employees also seem to really enjoy it.  Junior Marley Slotkin, an employee at Sobol, said, "I like working here a lot. It's a good atmosphere, fun, and everyones nice!"
Freshman Ryan Traynor also loves it there.  He said,  "[My boss] Connor actually makes it fun while getting work done. My favorite thing is meeting new people!"
Sobol is not the only new eatery this summer. In the mood for Italian food?  Mary's Pizza and Pasta will be opening in Speonk this month. This restaurant will feature classic Italian meals including chicken, vegetable and seafood dishes. Indoor and outdoor seating will be available, along with take-out and catering menus.
Center Moriches is also welcoming some new businesses this summer. Little Lucharitos and Swell Yogurt Cafe are the two businesses set to open. Swell Yogurt Cafe's menu will contain frozen yogurt, smoothies, and acai bowls.
Little Lucharitos, a Mexican restaurant with two other locations in Jamesport and Greenport, is sure to be popular among WHB students with its new location in Center Moriches.
There are also some new boutiques opening.  Palmer & Purchase and High End Hippie and two of the new clothing stores that opened in Westhampton Beach on Main Street. High End Hippie, which was already a store last year, moved its location and added many new and trendy pieces. Be sure to check out these new places as the warmer weather approaches. They have cute and trendy clothes that are sure to make you look your best this summer!
You will definitely not be bored this summer checking out all these new places. From new restaurants to clothing stores there will be plenty of eating and shopping to do!