Community Christmas Cheer Lead by Mrs. Kalisak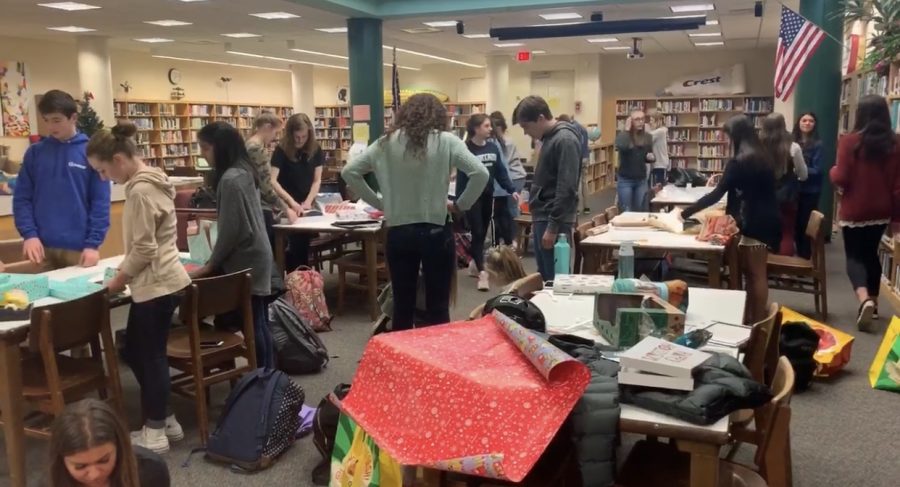 Math teacher Mrs. Kalisak lends a helping hand once again this holiday season, as the leader of the community's Adopt-a-family program.
Mrs. Kalisak has been involved in the program ever since she was a little girl. Her father, Gordon Werner, used to run the program for over 20 years and she grew up helping him. Four years ago, her father passed away, and she asked if she could take it over. And that's where it all started .
Adopt-a-family provides food and gifts to about 100 families each season.  Mrs. Kalisak get a list from the Immaculate Conception Church, in Quiogue which is an outreach church: no matter what religion people in need of help this time of year, they are open to welcoming.
Mrs. Kalisak shared, "This program is so unique and wonderful; it's not just a certain group that adopts families, everyone helps out in their own way."
Kiwanas, Quogue School, Bridgehampton National Bank, Bright Beginnings, the WHB Teachers Association, and so many more, including school clubs such as Rotary, Interact, and Student Government all contribute to helping the less fortunate have gifts to open on Christmas Day.
According to Mrs. Luciano, Student Government advisor, the club adopts two families each year, and all of their fundraising efforts by Student Government in the beginning of the year go towards that. She explains that it's a very rewarding program not only her but the students as well. "I think my favorite day of the year is when we go to the library and wrap presents. We play holiday music and everyone is really involved, It's a great way to really get in the holiday spirit," she said.
Mrs.Kalisak said, "It takes a village, and we have an amazing village. The whole community comes together for the people that need help. No matter what their budget is, everything helps, from a can of food to a bicycle."
Local businesses like Justin's Chop Shop in WHB and Rico's clothing in Center Moriches donate turkeys.
Many people help Mrs.Kalisak with this program. Her helpful little elves load cars and put baskets together. When meeting with one of these little elves she explained,  "It's definitely not easy work, but I do enjoy doing it every year. Knowing that I am bringing families a nice Christmas makes it all worthwhile."
While talking with Mrs. Kalisak, I noticed how she really thought about what she was going to say, before she said it, making sure I understood the program had nothing to do with her.  She explained, "I just run it – it's everyone else who makes the true difference."
Mrs. Luciano begs to differ. "The amount of work Mrs. Kalisak has to do is insane. She's such an amazing person and deserves so much credit for all of her hard work."
Mrs. Kalisak showed a great deal of appreciation towards everyone who helps in making the program run smoothly, starting with her father, whose organization  from the beginning has made it easier for her to take it over. Also, her husband, who helps whenever she needs, her young children, who are being raised to understand the program and who offer to help any way they can, and of course all of the people who adopt families. The Adopt-A- family program wouldn't be possible if it wasn't for all of their hard-work and dedication.