Emily Raises $4,200 for LI2DAY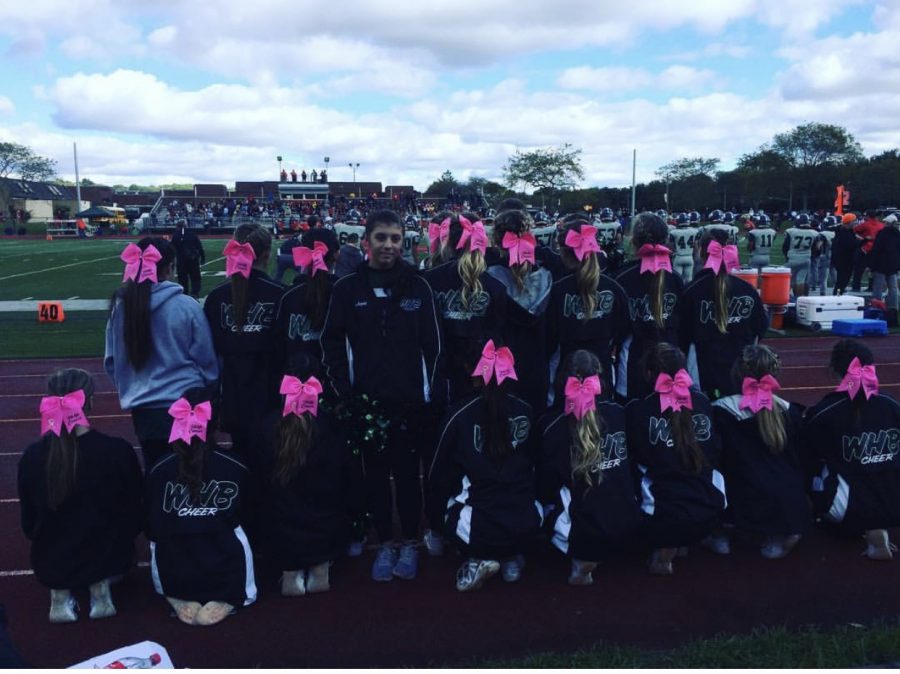 Emily Arpino makes what some feel would be impossible, possible. This football season, Emily sold about $4,200 worth of breast cancer bows donated to the cause. She is one of the most hardworking and dedicated students at WHBHS.
Emily's life consists of an extremely busy schedule due to gymnastics, baton twirling, cheerleading, dance, and keeping her grades on track. According to Emily keeping all aspects of her life in check can be challenging. She said, "It can be difficult sometimes because my schedule can get crazy, but as long as I stay organized I don't get too overwhelmed."
When Emily was three years old, she started gymnastics and it has inspired other sports she's been a part of, like baton twirling, cheerleading, and dance. Since 9th grade, Emily has been a part of the cheer team. Her favorite part about it is competition because she's always been of a competitive nature and loves the work that goes into perfecting a routine. "Emily has been on the team since freshman year and has been nothing but determined to get better," said cheerleading coach Ms. Rafferty.
During the month of October, Emily sold pink bows with the logo "Tackle Cancer" for cheerleaders to wear. She sold them for $10 and was able to raise $4200 to donate to LI2DAY.  "It was very rewarding to see that outcome and to know that the money will help local families who deal with breast cancer," she said.
Even with a busy schedule, she manages to keep her grades up. She credits her parents. "My parents have always made it clear that school comes first no matter what. Since elementary school, I have always had a busy after school schedule so learning how to manage that at a young age has helped me throughout high school."
Emily is such an outstanding person and she strives to be her best at everything she takes part in. Obviously her hard work has shaped her into a success. Everything she does inside and outside of school makes her who she is, one of the most determined people at WHBHS.