Starve and Save the World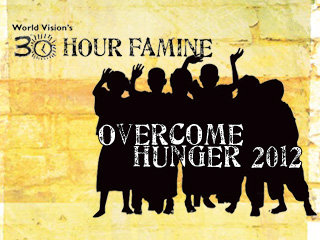 Get ready to experience a little hunger, WHBHS! Every year thousands of students across the United States participate in World Vision's 30 Hour Famine- and this year it's coming to our school. January 18th – save the date!
A mandatory informational meeting will be held on January 8th. If you are at all interested in participating in the event please try your best to be there- you will learn the basics of the fundraising you will need to do to come.  Each person attending is required to fundraise $50 and to attend the meeting on January 8th.
C.U.R.E is making sure that this will be a memorable event for everyone. Dozens of different events and activities are planned to fill the night up with fun for all. We're even hosting a Mini Battle of the Bands, featuring Jetty Four, Patrol, Bad Execution, and Creatures of Habit. You won't want to miss this!
According to World Vision, 26,000 die every day from starvation- and most of them are 100% preventable. If each of us raises just $30, we'd feed a child for one month. The more you raise, the more lives you save. This may be a fun-filled night for us, but for many children and families around the world, this is a harsh reality.
The more students that participate, the more lives we save. Good deal huh?
It's going to be a great night with all of your friends and many exciting activities. Try your best to come and do a wonderfully good deed.