A Familiar Face Returns
Hang on for a minute...we're trying to find some more stories you might like.
Not only is Ms. Hogan a student teacher in the English department, but she is also a WHBHS alumnus.
As a 2014 graduate, Ms. Hogan had an overall "great experience" at WHBHS. She loved the classes and opportunities she had as a student, from AP classes to athletics. While she was in high school,  Ms. Hogan participated in three years of varsity volleyball and two years of track. Ms. Hogan also took art all four years and was an AP art student.
Outside of school, she spent her time playing travel volleyball. She had three other siblings who also attended WHBHS, and each one of them had the same positive experience that she did.
Out of all the classes she took, Ms. Hogan's favorite was Broadcast Journalism, taught by Mrs. Mett. One of her favorite things about spending her days back at the high school is being around some of the classes and teachers that she loved when she went here. She especially loves working with Mrs. Mett, who was her favorite teacher of all time and the person who inspired her to be a teacher.
In January, Ms. Hogan started teaching freshmen English alongside Mrs. Mett. They have five classes in total, but Ms. Hogan teaches three herself. According to Ms. Mett, they work really well together, and the students love having her as their teacher.
Ms. Hogan said, "It feels very comfortable working with teachers that I had myself because they know me, and they're more encouraging."
Mrs. Mett agreed that their history has made the experience a special one. "We have a unique relationship because she was my student throughout high school.  And, because Ms. Hogan has been observing me for two years, it was  a seamless transition. My students love her.  And so do I!"
Although Ms. Hogan's student teaching ends on May 7th, her students hope she sticks around.  Freshman Lily Berchin said, "I love Ms. Hogan.  She is so nice – she's like a mini-Mrs. Mett."
Freshman Terrall Faines agreed. "She calls me by my nickname '631-TT' and I can tell she really cares if I succeed."
At the end of her student teaching, Ms. Hogan will be a certified English teacher, and Mrs. Mett feels she will be ready for classes of her own.  "Ms. Hogan has what it takes to be a great educator – she loves to teach and she loves her students.  I love watching her journey to becoming a confident teacher."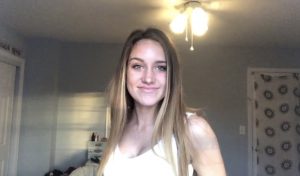 Mary Koltzan, Staff Writer
Mary, a sophomore at WHBHS, lives in East Quogue with her parents, two siblings and two dogs. She spends her summers going to K Road beach with her friends...