Johnny Depp Wins Case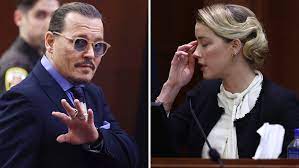 In December of 2018, actress Amber Heard sued her ex-husband Johnny Depp, an actor best known for playing Jack Sparrow in The Pirates of the Caribbean series. This lawsuit quickly ruined Depp's career, essentially blacklisting him from Hollywood. Since the trial, however, evidence revealed that  Amber wasn't necessarily the only victim in the case. 
The trial allowed Depp and his legal team to open up a defamation case against Heard. Disturbing evidence was brought to light, like a phone call of Heard abusing Johnny. Other evidence included multiple instances of Heard appearing in interviews and magazines without any injuries, despite saying that Depp would beat her before her appearance.
Depp's team used evidence like this to win the case after months of hard work. Depp was awarded $15 million s in damages while Heard was awarded just two million. 
Johnny Depp made statement saying that his goal with the case "was to reveal the truth" and that it was something that he owed to his children and everyone who stayed in support of him.
Heard said, "The disappointment I feel today is beyond words." She claimed, "I am heartbroken that the mountain of evidence still was not enough to stand up to the disproportionate power and sway of my ex-Husband."
The general consensus among the jury and the public seems to be that neither were necessarily good people, but Depp is far from the abuser he was made out to be and deserves his second chance.