Celebrities in the Hamptons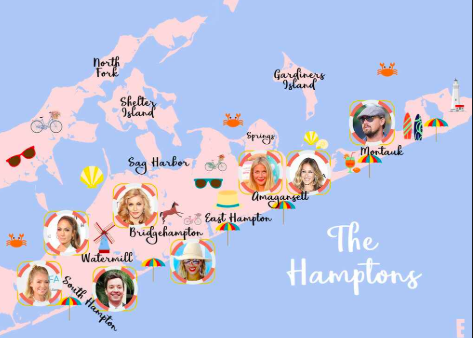 It's that time of the year again – with summer rapidly approaching, the Hamptons are flooded with traffic as tourists head towards the East End. But tourists aren't the only people vacationing in the Hamptons. Celebrities we all know and love are often spotted here in the summertime. Some popular celebrity vacation destinations include East Hampton, Montauk, Southampton, and Sag Harbor.
The Hamptons, known for their expansive and pristine beaches, attract visitors from all over, including Hollywood A-listers and chart topping artists. All throughout the summer, celebrities are spotted in various locations along the South Fork.
Back in 2014, Khloé and Kourtney Kardashian "took" the Hamptons for their TV show, Kourtney and Khloé Take the Hamptons, a spin-off of Keeping Up with the Kardashians, to open a new D-A-S-H boutique on Jobs Lane, Southampton. Another celebrity who is often spotted in Southampton is DJ and actor Ansel Elgort, who can be seen at Tate's Bake Shop. Montauk is another popular hotspot, particularly for younger celebrities, including actress Shay Mitchell and singer Justin Bieber.
Living in the Hamptons, it's not unusual to have come across celebrities. Freshman Erin Gilvary ran into television personality and The Tonight Show host Jimmy Fallon at Fairview Farm in Bridgehampton. She recalled the experience by saying, "He's a super nice guy, and is so friendly and humble." Her sister, sophomore Patricia Gilvary, said, "Jimmy Fallon was so chill and easygoing. He didn't act like he was any different from us and he seemed like such a great person."
Celebrities are everyday people just like us, and they need vacations and breaks too. Who will you spot this summer?