Miss Teen Westhampton Beach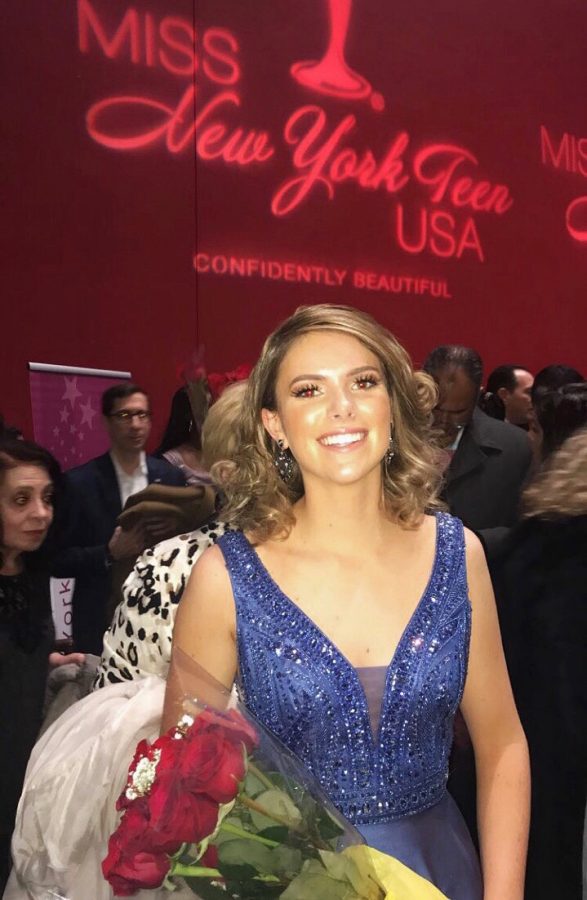 Wearing "Westhampton Beach Teen" sash, junior Sophie Waszkelewicz represented WHB in the Miss Teen New York Pageant this past weekend in Westchester. A very high-profile competition, girls from all over the state come to compete. This pageant eventually leads to the Miss Teen USA Pageant, ages 14-18.
Sophie decided to apply to enter this event after seeing an add for it online. She then had to send in headshots and do a phone interview to see if she was a serious contestant. After a few days of waiting, Sophie received the news that she had been accepted and would be joining the other 120 girls on stage.
The clothing categories for the pageant consisted of athletic wear, a pink cocktail dress and a ball gown, as well as formal wear for the interview component. Sophie says, "I should've started preparing earlier because as it got close, I was worried that I wasn't going to find the perfect clothes."
Most other pageant girls have been training for this competition for most of their lives, as a rookie, Sophie says she felt "sort of unprepared but I really didn't know what to expect, so going into it unknowing I felt like everything went relatively well."
Three days were needed to complete this event, starting Friday and ending Sunday. Friday were the interviews, Saturday were preliminaries and Sunday were the top fifteen finalists. "Some of the girls were super competitive. That kind of scared me but there were other girls that were more relaxed like I was," says Sophie.
The Westhampton Beach teen says that her favorite outfit category was athletic wear because "there was spunky and fun energy on stage and in the audience."
After day one of the weekend, Sophie said, "It was nerve racking being on stage alone trying to look and do my best." As a viewer of the pageant, I can attest Sophie appeared to be relaxed and looked like a natural walking across the stage.
Doing very well on Saturday, family and friends of Sophie thought that she had a chance of pulling through to the next day, but unfortunately she did not. Slightly disappointed, Sophie said, "I had the best time at this pageant. I made so many friends with people that I never thought I would. It was a really cool experience that not everyone has the opportunity to have. It will definitely last a lifetime."