Dinner Theatre Leaves Audience Hungry for More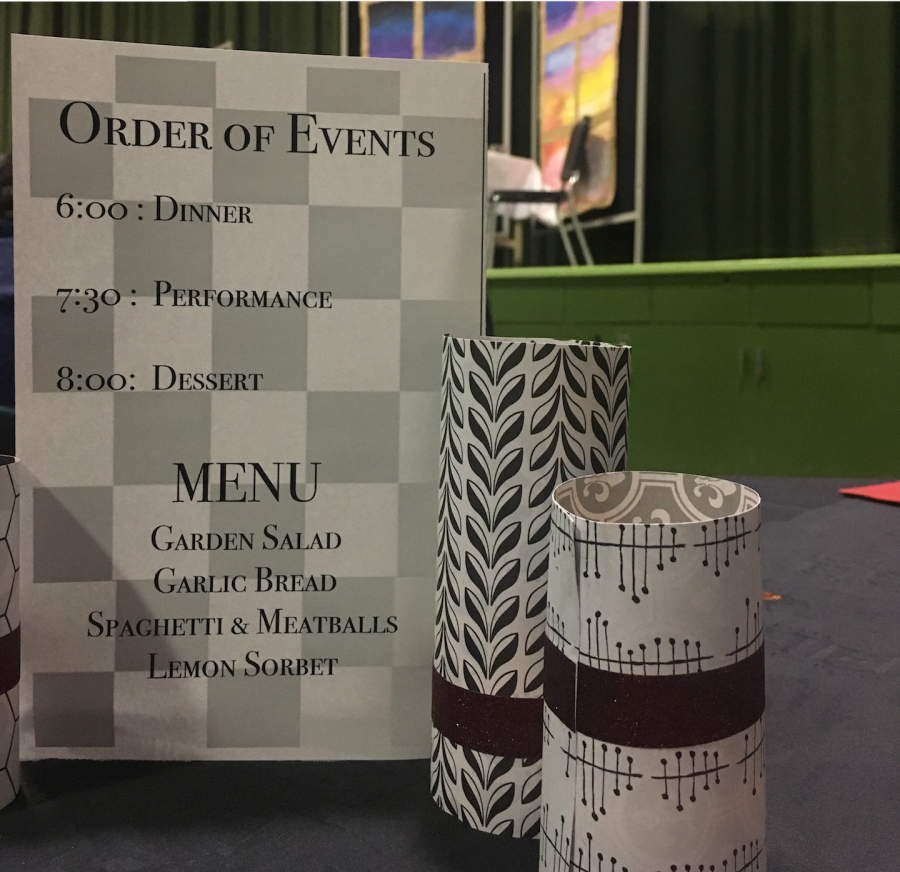 This past Saturday, WHBHS's cafeteria was transformed into a classy dinner theatre setting and proved to be a smashing success. A full house was served a timeless Italian dinner of spaghetti and meatballs and was entertained with Check Please– the #1 most produced short play written by four-time Heideman Award finalist Johnathan Rand.
Check Please shows a series of horrible, yet comical, blind dates that had audience members laughing in the isles. In regards to how Check Please was selected, director Sydney Sheren says "Rosemary [Cline]…picked the play out… she ended up finding a short show that was actually about dinner so we thought it worked well for the dinner theatre."
Sheren was definitely the driving force behind the high school's first ever dinner theatre. Not only did she direct, but she was also a member of the cast who portrayed the part of an avid sports fan that insisted on watching the game whilst on her blind date. The scene itself had her screaming at the table, forcibly grabbing her date, and, inevitably, proving to be a rude dinner companion.
Sheren's multitasking skills were also put to the test during this production. "During the show," Sheren discloses, "I was acting in it, in the beginning…where I was standing on the stage, I was actually cuing their [crew's] lights…and when I was off stage, I was giving them hand cues to cue the lights."
Unlike the typical auditorium– which has the luxury of using high-tech equipment such as microphones, a fully equipped sound system, and professional lighting– the dinner theater was set-up in the high school cafeteria, which includes a stage with a depth of only 3 feet. Therefore, Sheren did not have her usual stage manager headset to give the cues to hidden backstage crew members. Instead, in each back corner of the cafeteria was stationed a large and outdated spotlight. Despite the noise and brightness of it, the drama club was able to work around the clunky piece of technical equipment smoothly so the audience was not disturbed by it.
According to Sheren, what made this show so unique was the number of new actors that auditioned and were casted. Sheren says this is mostly because WHB's spring musical, Into the Woods, is currently underway and therefore was keeping most actors busy from partaking in the dinner theatre. Not to mention that the entire dinner theatre event was student run, from the cast, to the wait staff, to the cooks.
Eleanor Kast made her acting debut as the leading role, "Girl", in Check Please. With a role that included dousing a date with water, dining with a man in a burlap sack, and even putting up with a "self-centered tool", it is no surprise she described her role as "really interesting." As far as the overall experience of being in the cast of the drama club's fundraiser, she gladly reported it has "been a really good learning experience for me."
But the cast was only a small part of what made Saturday night such a success; it wouldn't be a dinner theatre without the wait staff and cooks.
Kylie Cast, despite her WHB stage experience, decided to sign on as a member of the wait staff. Cast says "My job at the dinner theatre… is serving all the tables spaghetti and meatballs, bread, and salad, and drinks as well." Cast claims that this job was nothing new to her like it was for WHB. "I've done something like this before at my church," Cast reveals. "I've served tables, so I wanted to help with this event anyway. …taking on this job was something I figured I could do."
Sheren also tells The Hurricane Eye that school chefs as well as other volunteers guided those students who wanted to work in the kitchen to help prepare the food served.
"I loved how it was short and sweet," middle school audience member Courtney says about the show. Her mother, Dana Andreoli, gives a shout-out to cast member Adam Sheren saying, "The stellar acting of Adam Sheren… was a pinnacle part of the play."
"Meatballs were great," seemed to be the audiences' remark to the favorite food item on the menu. They also go on to describe the setting of the cafeteria as "classic" while the "music set the whole atmosphere."  Many audience members, in fact, were first time guests at WHB productions and many claim to be returning for the spring musical.
Twenty percent of all funds collected during the dinner theatre will be donated to two separate organizations. Ten percent will go to the Dreaming Zebra Foundation in Michigan, a non-profit organization providing children with the tools and hands-on experience of the arts. The other 10 percent will go to WHB's HUGS program.
The drama club and theatre department are excited to move forward with their next big project Into the Woods which will be performed live March 23rd, 24th, and 25th.