Unlike Any Other WHB Show
Hang on for a minute...we're trying to find some more stories you might like.
The auditions are done, the call backs are complete, the cast list is posted, and rehearsals for WHB's production of Almost, Maine have begun. You'll cry, laugh, and see yourself appear on stage as actors prepare to take the audience on a journey of bittersweet love stories.
Despite how real the actors make it feel, the cold and snowy town Almost, Maine is, in fact, fictional. The time period, however, like the town, is quite unique— every scene takes place at 9pm on the same Friday night.
Almost, Maine was written by John Cariani and was originally meant to be performed by only four actors. However, WHB is spicing things up and, for each of the nineteen separate characters in the show, is an extraordinary actor that the casting process selected. It is important to note that Cariani did not intend for any of his characters to be "hicks or rednecks" from Maine, but rather ordinary people the audience could relate to.
From stage managers to senior cast members to newbie actors, each one had something to say about director Rosemary Clines' pick for the fall play.
"I didn't know the show", "never heard of it", and "didn't know…the play" seemed to be the unanimous answer from stage manager, Sydney Sheren, assistant stage manager, Aidan Baryk, and newbie actor William Jayne.
While the actors may be the ones to receive the standing ovation, backstage is buzzing well before opening night.
"Basically organizing everything," is how WHB theatre department stage manager, Sydney Sheren, describes her job. Similar to the job of a busy mom, Sydney's job entails keeping the crew and actors on task and writing up to-do lists.
Despite being unfamiliar with the show when first presented to her, she now says this show and cast "is unlike any other cast I know. The cast is so connected." Sydney finds it fascinating that "everyone has a different take on the character" they portray.
But beyond the cast, Sydney finds Cariani's play writing style unique as well. "He put so much into it, telling you what to do." And it's true. Most shows are written with basic blocking and descriptions, but leaves enough room for the actors and director to play and experiment. Cariani, however, makes note of precisely where the actor should pause in speech, exactly where lines overlap, and specifically tells the actor what emotions to feel and when.
New to the stage is actor William Jayne, a WHB junior. William has the unique opportunity to play, not one, but two characters in the show. He plays Jimmy in scene two and Phil in scene six. William describes his character Jimmy as a "spaz" and Phil as an "angry husband."
William appreciates the fact that every actor gets the same amount of "screen time" and finds the show, overall, is "subdivided nicely." He also describes the show exactly how Cariani wanted it portrayed— "light hearted, yet depressing."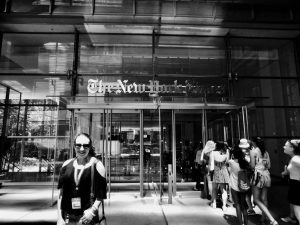 Peyton Bigora, Staff Writer
Peyton, a senior at WHBHS, is writing for The Hurricane Eye for the first time. She is passionate about writing, photography, theatre, and reading… a...