Bye Bye Rubi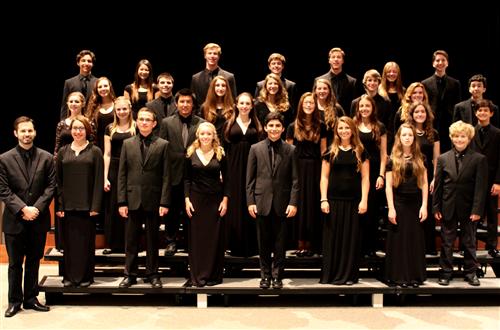 Hang on for a minute...we're trying to find some more stories you might like.
Mr. Rubinstein, music instructor, has wowed and amazed students, teachers, and parents alike with his student's performances. Now he will bid a temporary farewell as he takes a two-year leave to pursue his doctorate in music education next year.
The Concert and Symphonic Choir both will experience the change of his absence. The juniors will be denied the chance to end their high school career with him. Lauren Natoli, 11th grader, expresses her sadness at his leaving, "I don't want him to leave! He's an amazing teacher, he pushes us, and quite frankly we sound great because of it." Lauren doesn't know what to expect with a new instructor but she does feel "It's not going to be the same, that's for sure." Hopefully, the "new kid" will be able to live up to Rubinstein's sass that Natoli says, "Never fails to make [her] day." Also in her grade, Emily Hilbert has stated that she'll miss his "charisma" and went to say how his "rigid teaching style is scary but it works… I know that in my last three years I've had nothing but amazing performances."
While the seniors were going to have to say goodbye anyway, Meghan McLaren says she is "very shocked that he is leaving, and am very sorry for the students who won't have him next year." Meghan has gained unshakeable respect for him over the years, "He is a fantastic teacher. The chorus, as a whole, can learn new songs very efficiently. Plus he has, in the words of JK Rowling, 'the gift of keeping a class silent without effort.'" He will be missed very much by all of the students who had him. The chorus has benefitted tremendously with him here. We are very lucky to have had him as our teacher. The chorus as a whole has grown since his arrival.
Sophomore Anna Gilmartin has had the least amount of "Rubi" time but that hasn't stopped her from forming a positive opinion. "Personally, he's one of my favorite teachers and it's kind of sad that he's won't be here next year." When asked what she thinks people will miss she sagely replied, "I don't think there's one thing that you can miss from him, I think you just miss everything."
Mr. Rubinstein is a tenured instructor, so the goodbyes are not forever. Westhampton Beach High school will have their wonderful sassy songbird again. There's no doubt that a number of students, teachers, and parents alike will welcome him with open arms.