Greyli Chooses Fashion Institute of Technology!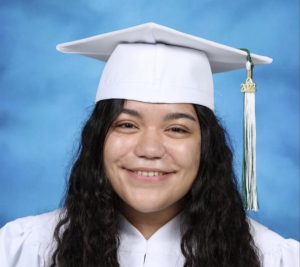 As many seniors are off to their next chapter, one senior in particular is continuing her academic success. Senior Greyli Garcia is attending Fashion Institute of Technology this fall! She plans to major in Advertising and Marketing Communications with a focus on Journalism. 
Fashion Institute of Technology, the number one fashion school in the world, has over 8,500 students enrolled yearly with a graduation rate of 83%. It is ranked number one out of 109 colleges worldwide, offering fashion-related degrees and number four on the list of 25 Best Colleges in the World.
What made Greyli so intrigued with FIT was it being exactly what she was looking for: opportunities to expand her love for Advertising-Marketing communications and inclusivity. "I love that they help Hispanics, Blacks, Asians, etc with their future career planning and how to deal with discrimination in the workplace." 
Greyli said, "Advertising and Marketing is a broad major and they teach students many different things," meaning she has the experience of getting to explore different avenues in this area while sharpening her skills and understanding the foundations of marketing and advertising. This major allows students to evolve through various internships and hands on experiences. Fashion firms and media companies like Calvin Klein, ABC and Gucci have given students expertise in their fields to help them succeed in the future.  
After college, Greyli said, "I'll be able to do things like journalism, editing, writing, radio, public relations, managing a business, or becoming an art director." FIT will provide Greyli with the essential skills to thrive in whatever area she chooses. She's intent with excitement to further her career plans by "starting a podcast, build my platform, write novels, and become a travel journalist."
FIT has a middle acceptance rate for students but the competitiveness is high. Greyli explains, "It was kind of  hard to get in," when trying to become accepted. "My hard work helped me get into FIT because I did the most I could and I tried to believe in myself." Her determination and strong work ethic is what really propelled her to the front. 
Senior, Gino Ando says, "Greyli will definitely do great things in her future and I can't wait!" She works on stories even when she's not writing articles proving why "she inspires so many, including me," said senior Jadyn Kass.   
Greyli is excited to experience the the city life and meet different people in FIT. "The professors are working professionals. I will have the chance to intern and work with major companies, and I can help prepare for New York Fashion Week."  These unique experiences will help her to succeed in her career path. 
We wish you the best of luck! Congrats on FIT Greyli!