WHBHS's New Language Teacher!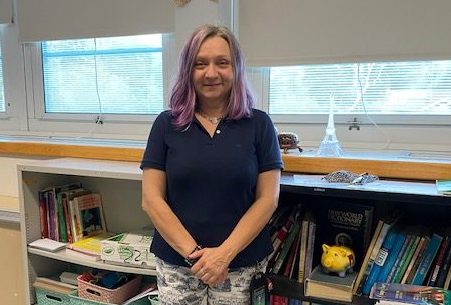 WHBHS has a new language teacher! Dr. Mester took the place of Mrs. Petroski who moved to Virginia over the summer. She will be teaching Spanish II and French II to incoming freshmen. 
Before she came to WHBHS, she taught at Connetquot High School for a one year leave replacement and Hampton Bays Middle School for a part-time job. These experiences helped her become a better teacher. 
Dr. Mester was born in Transylvaina, Romania where she grew up most of her life. The  country was Communist, leaving her in a restrictive environment. When she was 19, she came to the U.S. on her own. However, she had to support herself and couldn't pursue higher education. She had many jobs but couldn't make a living on Long Island. 
She decided to go back to college to become a Spanish teacher. At first, she didn't like the idea of teaching because her parents were teachers. She discovered that her passion for teaching Spanish was greater than what she thought.          
As a new teacher, she said she came from rough beginnings in order to get to where she is today. Mester encourages her students to never give up because the more you work hard, the more you will achieve academically and personally. This is her first year teaching WHBHS students and she hopes to make an everlasting impact while on her students' journey. 
She hopes to broaden the minds of her students. She believes learning a foreign language is "opening my students minds to other cultures and it shows that there is a big world out there." It makes them hungry for knowledge, possibility to travel, and expands their brains.    
Being a new teacher at WHBHS has allowed her to meet some of the students that are in her classes or walk the hallways. "I think WHBHS students are the best. I am extremely happy to be here. We have such a good relationship, I like my students and they like me," said Dr. Mester.  
WHB freshman Mustafa Gulsen said,  "She is very understanding when giving tests or quizzes. When doing classwork, she motivates us to work hard and is never too strict with learning a foreign language."  He said, "She never leaves any students behind and lets them go at their own pace."   
She plans on bringing a wealth of knowledge and being an awesome role model to her students while in her classes. She said, "I want my students to stay in school because its so much harder to live on your own" explaining how important education is in helping you survive life after high school. 
Being an awesome role model doesn't just require good character and leadership qualities, the commitment your teacher has for your academic success makes a better student. Dr. Mester said, "You are only as good as your teacher" revealing how the impact of the teacher can further or decline the academic success of a student's future.   
Aside from being a teacher, she loves to read, swim, and travel. "Traveling is the best thing you can do for yourself. If you remember one thing your whole life, traveling is something that you will never forget." 
If you enjoy learning new things and continuously want to grow, stop by room 221 to say hello to Dr. Mester!