Mrs. Russell Raises the Bar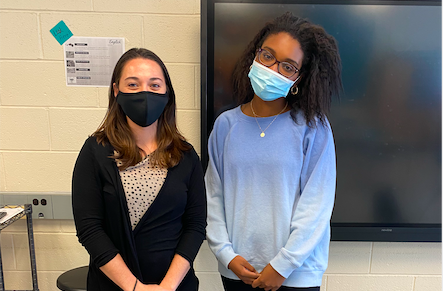 Students need a role model to help them succeed in whichever classes they're taking, especially in a subject like English where reading and writing can open new doors for new vocabulary and stories to be told. 
One WHBHS teacher in particular, English teacher Mrs. Russell, has influenced many.  She is well-liked by students and faculty. She is a dedicated and hard-working teacher and provides her students with the most amount of knowledge to grow and learn. 
One way that she has been influential to her students is by showing them a good attitude every day and building self-esteem.  Junior Greyli Garcia says, "She has made me more confident and fearless when going after my dreams or goals." 
What makes Mrs. Russell different from other teachers is her compassion and drive.  She always strives for the best in her students as well as herself.  Greyli continued, "She's engaging with her students and relatable when it comes to daily life things or struggles. She doesn't make you feel unwelcome or that's she's above her students." 
Mrs. Russell's colleague,  special education teacher Ms. Eagan, says, " She has shown me patience and fairness as a teacher. Furthermore, she's able to meet students at their level whether high achieving or struggling students." Ms. Eagan feels she has a natural gift for teaching and dealing with students, parents, and co-workers. 
Mrs. Russell contributes to the WHBHS community as well. She actively takes part in many clubs and activities. Social studies teacher, Ms. Larson says, "Mrs. Russell is the co-advisor of the Key Club which gives students the opportunity to participate in community service projects. And, as a colleague, Mrs. Russell is committed to furthering her own teaching skills by continuously taking classes to pursue greater knowledge in the field of education." 
Mrs. Russell continues to push herself and her students to new heights and we thank her for being an inspiration to her students and colleagues!