In the Spotlight: Math teacher Mr. Kochis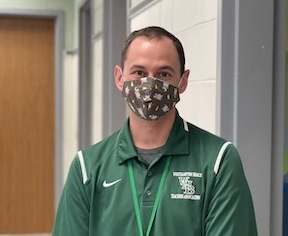 Mr. Kochis is a 11th and 12th grade high school math teacher at Westhampton Beach High School. He grew up in Shoreham, New York and he and his wife bought the very house that he grew up in! Not many people can say that ! A big part of why he chose to teach at WHB is because of the technology commitment in the district- 1-to-1 with Macbooks. 
When asked why he became a math teacher, Mr. Kochis said that in high school, the last career he thought would imagine for himself would be to become a teacher.  Most of his family were teachers. So, it seemed his DNA kicked in and eventually he would be on his way to following in the family footsteps.
Growing up, some of his teachers leaned on him to assist other students and he actually enjoyed it. As Mr. Kochis describes, he "got the taste" for helping others and had a "lightbulb" moment when he realized that he too, enjoyed the feeling of watching those he was assisting, as it all came together for them, and they understood the work he was helping them with. As he goes on to describe, "it is a good feeling to help others out." 
Indeed he does. He is a very well-liked, honored teacher at WHB. He also helps tutor students, in his time after hours. As one of his pupils told me, "Mr. Kochis is really patient, kind and really takes his time to make sure I understand the content." When asked how long he has been working with Mr. Kochis, he told me a little over a year. 
 Mr. Kochis shared his thoughts on teaching during the time of COVID19. He said that it can be challenging, as it is a constantly changing environment, but it works as best as possible. He said he is thankful for all the feedback, especially from students. He also added that he has finally dialed into a pattern, and things are pretty stable at the moment.
Mrs. Tunstead, WHB's librarian at the high school, has worked with Mr. Kochis for many years. They both taught in the 9th grade together and Mr. Kochis now spends second period overseeing the library. They both spend time together during that time. She describes Mr. Kochis as "innovative, energetic, kind and dedicated – a fantastic teacher," she said. 
Mr. Kochis is an avid ice hockey fan and The Islanders are his team.  He also enjoys fishing and boating. He is a woodworker as well. He made a nightlight for his son, Thor's hammer, and even the very desk he sits from when he works from home. During the summer, he spends quality time with his two sons, Luke and Andrew, fishing, swimming and boating. One of his favorite restaurants in WHB is Tonnino's and he is a coffee lover, spending time at Hampton Coffee. 
We are incredibly grateful to have Mr. Kochis as part of the WHB community and it was a pleasure and an honor to learn more about him.  Go Islanders !