Family Over Football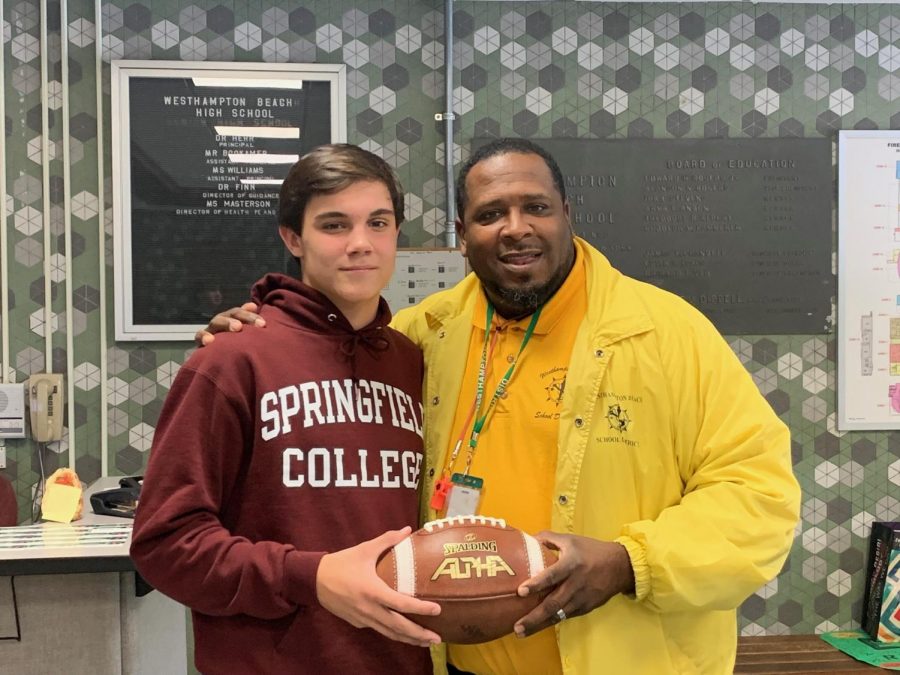 Football season is in full swing but by the end of the season one coach may be gone from the scene.
After 28 years of coaching, security guard Mr. Ron Gholson is contemplating whether or not to continue coaching the WHBMS football team. He is a family man and doesn't want to miss out on the raising of this grandson.
Growing up, Gholson lived in Bridgehampton where he was part of the Southampton Mariners football team in his junior year and the Bridgehampton Killer Bees basketball program since his freshman year. After his graduation, he attended college at the University of Bridgeport to play basketball, even though his first love was football.
Later, he came back to the Hamptons when his children were starting WHB middle school. He asked the athletic director at the time if he could volunteer as football and basketball coach for the Hurricanes and the answer was obviously yes.
Gholson values hard work, commitment, and dedication of his players these traits are important to the success of his players on and off the field. He said, "They are at the top of my list. It's very important in everything you do in life. You must have a positive work ethic. You have to maximize all you have."
But what Gholson values more than sports is family. This is his main reason he might not coach football next year. As new grandfather he wants to be an active part of his grandson's life and sports career. He said, "I want to enjoy his coming of age and not wanting to miss that as Papa G."
His former players have found him extremely influential in their lives and sports career. Sophomore Daniel Naglieri said, "He's dedicated and clearly loves what he does. His compassion for the game is truly inspiring."
Coach Gholson says that he is thankful for all the players he has got to coach and teach throughout his time at WHB. Even when asked who his favorite players were he said, "Since middle school, all of them, everyone player has touched me and made me become the coach I am today."
Coach Gholson has left a mark on all of his players and although it's sad to see him leave his coaching position at the middle school team, he will still be coaching the varsity basketball team this winter. So there are still some lucky athletes out there. Also, he will still be in the high school right at the front desk or in the lunchroom as one of the most loved security guards and coach in the school.