A New Chapter for Mrs. Tunstead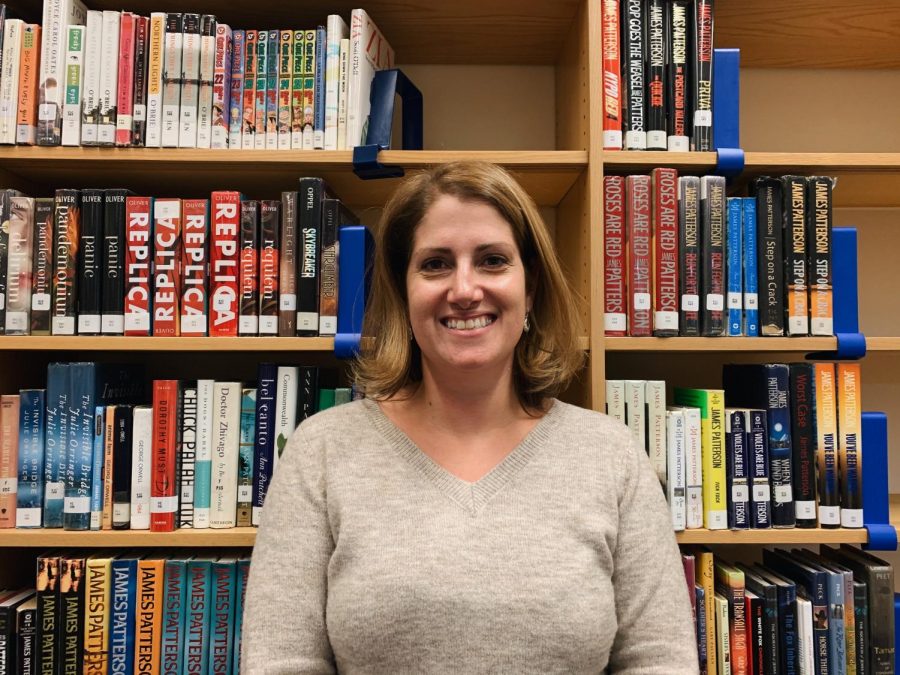 Former English teacher Mrs. Tunstead is the new WHBHS librarian.  Mrs. Tunstead worked as a WHBHS 9th grade English teacher for 14 years.
Due to Mrs. Merendino's retirement last year, Mrs. Tunstead applied for the position of librarian.  She said, "I've had my [librarian] degree for quite some time and it is always something I've wanted to do." 
One exciting new additions to the library that students should look for this year is that the Writing Studio is no longer available only during your lunch periods. Students can now come to Mrs. Tunstead during free periods throughout the day for help.
Mrs. Tunstead's adjustment has been very nice because she still gets to see all of her old classes and some new classes as well.
Even though Mrs. Tunstead can no longer teach her favorite topic of Romeo and Juliet, she still finds joy in helping students with their research papers and any essay they need help on. 
A former student of Mrs. Tunstead, Abby Gobler, said that Mrs. Tunstead, "Really cared for her students and made her students feel special." Abby's favorite memory of Mrs. Tunstead was the way she taught Romeo and Juliet. It was "very interactive with students working together." 
Abby said that she has visited in the library Mrs. Tunstead for her research papers. She said, "She seems her very happy working there."
Sophomore Madison Quinn had Mrs. Tunstead last year as a freshman and she is happy to have Mrs. Tunstead as the new librarian. She says that Mrs. Tunstead is good with all grades and makes everyone feel welcomed.
Madison said, "She helped each of her students individually so they would all prosper and achieve their goals." 
Another former student, Jessie Dunn, says that she feels as though Mrs. Tunstead was meant to be a librarian.  Jessie said, "Mrs. Tunstead was very understanding and that you could always talk to her."
Jessie's favorite memory that she shared with Mrs. Tunstead and her classmates was during Romeo and Juliet. "More specifically when we were reenacting one scene where Ciara and I were on the table and could not stop laughing with Mrs. Tunstead." 
English teacher Mrs. Luciano, at WHBHS says she worked with Mrs. Tunstead for 11 years. When Mrs. Luciano first met Mrs. Tunstead when she filled in for Mrs. Tunstead for her maternity leave.
Mrs. Luciano said, "I remember during my demo lesson she was very encouraging and went out of her way to make sure I felt as comfortable as possible before the lesson began."
Over the years, Mrs. Luciano said, "I continued to find Mrs. Tunstead to be a great person.  She is always fun to plan with and has taught me lessons in organization that I still use today."
She said  Mrs. Tunstead is always a pleasure to work with. And that she is smart, dependable, supportive and friendly.
Mrs. Luciano said, "Mrs. Tunstead is a true educator and I am excited to see what she does in her new role as a librarian.  I am certain it will be great."
We all wish Mrs. Tunstead the best of luck in her new journey. Be sure to visit her in the library.