Meet Senior Kenia Torres
Hang on for a minute...we're trying to find some more stories you might like.
While moving is not uncommon in today's world, senior Kenia Torres has truly lived the life of a nomad. Born in El Salvador, she moved to the United States at the age of three and has moved nearly half a dozen times since then. However, it is not the number of times she's moved that makes her home life so unique, but rather the location of her various homes: besides El Salvador, all of moves have been on Long Island!
"Brentwood, Ronkonkoma, Hampton Bays, here, Westhampton, lots of places," Kenia said when asked about where she has lived since El Salvador. While most might have guessed her family was in the military or have jobs that require being relocated, Kenia's response to why she moves so often is far more comical: "Dad…just doesn't like to stay put in one place."
It may surprise some to learn that Kenia does not feel that her nomadic lifestyle has had the greatest impact on the person she is today. It is, instead, living under the stereotype of being an immigrant. Kenia disclosed that she feels people already know her simply because she is an immigrant. But it is this feeling of being stereotyped that has pushed her to live with an open mind. She strives to accept all and embrace diversity.
Kenia has begun mapping out her future and it begins, for her, with attending Mount Holyoake in Massachusetts. She has already begun the application process and will be applying regular decision. She is hopeful to be receiving the "big envelope" in a few short months. Kenia has aspirations to be a psychiatrist and, just like her explanation for moving, has yet another comedic response as to why she has chosen that career path. It stems from her love of the television show Criminal Minds.
However, this reasoning makes complete sense to her. The show sparked an interest in "looking at abnormalities… like all these different things that go on in people's minds." At first, the show had her leaning towards studying criminology, but as she grew up, she began to understand herself and where her true curiosity lied. And that was in the human mind itself.
"We're all inspired by small things in our life," is the motto Kenia Torres lives by. She feels empowered by her old soul personality and ability to speak Spanish and English. So, don't mistaken her quiet appearance. She is a proud observer.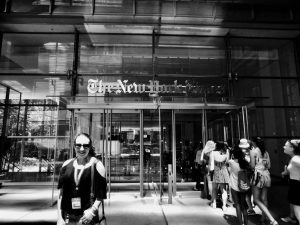 Peyton Bigora, Staff Writer
Peyton, a senior at WHBHS, is writing for The Hurricane Eye for the first time. She is passionate about writing, photography, theatre, and reading… a...