Welcome Mr. Bruno!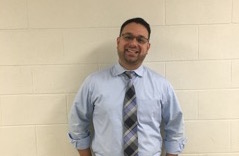 This September, many WHBHS students noticed a change in our teaching staff. Many new teachers were added to the faculty. Among them was special education social studies teacher, Mr. Bruno. Mr. Bruno has taught for about five years, and he had a lot to say about his past experiences.
During 4th period lunch was when I had my first encounter with Mr.Bruno. I had never seen him around the school and was curious about the role he played at WHBHS. When we were asked to write an article about something new going on in the school, Mr. Bruno was the first thing that popped into my mind. I was excited when he agreed to let me interview him for The Hurricane Eye.
Mr. Bruno credits his former teachers with his reasoning behind becoming a teacher. "In high school, I was going through some rough times and I had great teachers to help me through everything." He continued, "Also, while I was in college I originally wanted to become a lawyer. But most of my professors steered me into the direction of teaching because of the level of intensity that was required to be a lawyer in the courtroom. They would say that they preferred being in the classroom rather than being in an actual courtroom."
After talking with Mr. Bruno and doing some of my own research, I realized the interview process to become a teacher in New York is extremely difficult. Mr. Bruno described his interview process as "very long and strenuous."  He was chosen among hundreds of applicants to take on this teaching role here at WHBHS.
Mr. Bruno is definitely a good example of a hard worker. He came from a middle class family in Farmingdale, in "a great neighborhood." He told me that while working for his Bachelor's degree, he was a manager at an Italian restaurant. I thought that was pretty interesting fact about him. It shows that although he wasn't aspiring to be a manger of an Italian restaurant, he was willing to do what he could in order to make a living.
I got the chance to speak with one of Mr.Bruno's students, Thom Blake.  He described Mr. Bruno using three adjectives, "Tough, serious, and an organized teacher." He continued with, "Bruno is a great teacher and has a lot of swag."
Although I do not have Mr. Bruno as a teacher, after my brief conversations with him, I couldn't agree more with these statements. I am very glad Mr. Bruno has decided to become apart of the Hurricane family. On behalf of all the students and faculty members at WHBHS, we welcome Mr. Bruno and wish him good luck!