A German Experience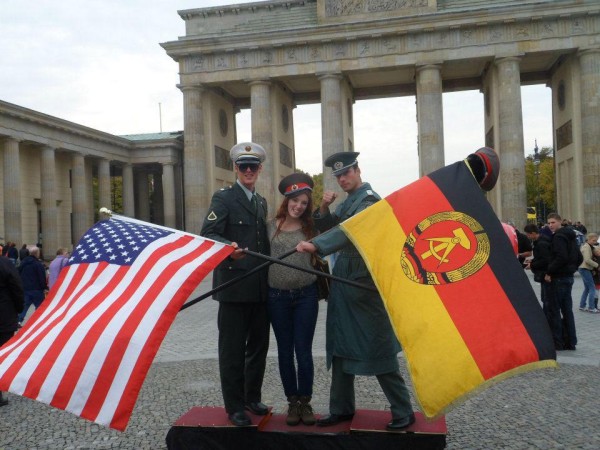 During the final weeks of summer, when most teens were dreading the beginning of school, one WHB student was busy preparing for her year overseas.
"I wasn't afraid to leave my family for this new life here 3000 miles away," junior Mikaela Moschella said of her current exchange in Germany, which started as a crazy dream and quickly became reality.  Now, almost 5 months away from home, Mikaela's focused on embracing the remainder of her year and enjoying this amazing opportunity.
Meppen, the town Mikaela's been staying in, is a small quaint town, and although it seems a world away, she's quick to compare it to WHB.  "It looks like your classic 'Santa Claus town,' with cute little buildings and a big town center," she says.
This little city seems to be holding a world of enthusiasm; Mikaela described the recent Christmas market that the town held.  "It's basically a farmers market for the entire month of December, with stands for wurst (sausage), bier (beer), and crepes (my favorite!)."
Many students talk about spending a year abroad, but few actually fulfill their eager words.  Mikaela jokes saying the true reason she went on exchange was for the "beer, obviously," before quickly adding, "I've always found German people to be so friendly (I've took a trip to Germany when I was younger) and I also think that German is a good language to know."
Some things in WHB are irreplaceable, like the people you surround yourself with and the gorgeous beach, which some of us can walk to, but Mikaela's overlooking the homesickness and loving her new German life.  "It's sometimes a little disappointing when I go on Facebook seeing pictures and hearing things about everything my friends are doing that I can't participate in," she admits.
But when asked what the best part about her exchange is, her excitement is clear.  "The best part has to be all the great people I'm meeting, I've made so many friends already!  Another great part is knowing that I am able to now speak a language that I didn't know anything about four months ago," she says.
Another huge worry for exchange students is living with their host family, which they meet for the first time upon arriving to their exchange country, but her family has hosted many exchange students before and knew exactly what to do.  Luckily Mikaela has only good things to say.  "My host family is great.  They really help me with whatever problems I have, and always cheer me up when I am upset."
Her German experience has become even better thanks to these wonderful people that she has been staying with. "In general, there aren't any things [that] changed since Mikaela came to our family because my parents treat her like they treat me and my two brothers…but life is more interesting sometimes," Mikaela's host sister Kristin said.
"I am especially thankful for my host sister, Kristin, who has helped me out in every way possible during this exchange.  She is one of my best friends," Mikaela added.  Kristin agreed saying, "Sure we sometimes argue, but I think that's how girls always are, and it really depends on the totally different cultures.  It is a very nice and big experience to have her in our family."
If you're considering studying abroad, Mikaela has first-hand advice based on her current exchange.  "You need to think long and hard, because it's one of the most important decisions of your life.  You have to know that you will make it the entire year without coming home.  And if you are not totally excited, or [if you're] unsure if you should go, then don't go, because even the strongest exchange students have a period of homesickness that is hard to get through," Mikaela said.
As for Mikaela, her independent personally encouraged her to begin her life-changing year abroad.  She is now enjoying this wonderful experience, as her friends and family eagerly await her return at the end of the school year.