Jaden AlfanoStJohn Takes Home the Hansen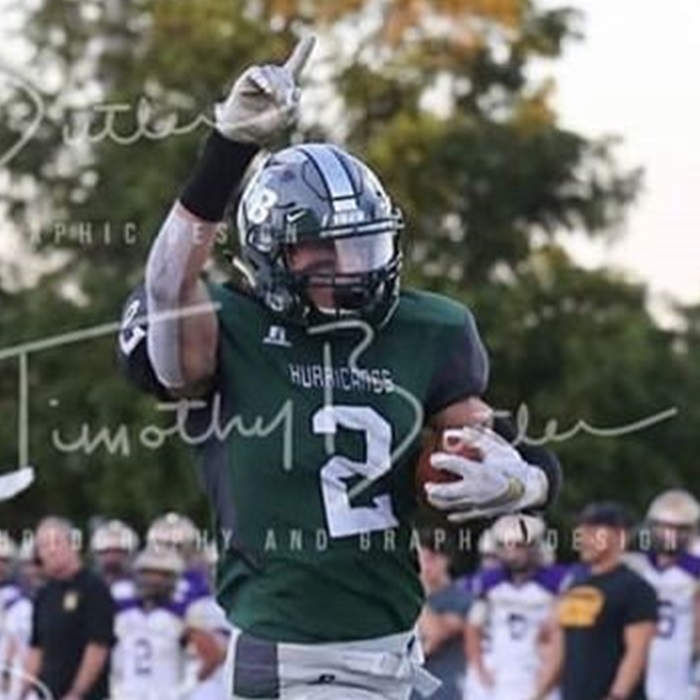 Frankie Noto, Staff Writer
February 25, 2020
After finishing the season with amazing numbers to set records and leading Suffolk County in defensive takeaways for the Hurricanes, Jaden AlfanoStJohn won the 2019 Hansen award, the third year in a row for the Westhampton Beach Hurricanes. 
AlfanoStJohn had to conquer something very big in his life as a Hurricane this year and that was playing without one of his biggest fans on every Friday night, his mother Rose, who passed away in September.  Despite Jaden's loss the senior running back had a very historic season. 
Rushing for 1,570 yards on 224 carries with 25 touchdowns, Jaden set a school record with eight interceptions in just one season. Jaden was a player to watch not only on  offense, but defense as well. He was the 60th recipient awarded the Hansen top as best player in Suffolk County. Giving Westhampton Beach the Hansen award for the third year in a row coming off of Dylan Laube and Liam McIntyre winning it back-to-tack. This wasn't just an easy task for the running back.  
 I got a chance to talk to Jaden and ask him some questions on how he felt about his seasons and years at WHB. I asked Jaden to describe his journey with his teammates.  He said, "Historic. Playing for a program like this means a lot because it taught me how to handle tough situations in life."
When Jaden won the Hansen, the said he felt relief.  I wanted to know what was going on through Jaden's mind and his emotions when he got his golden prize. "I was relieved that all my hard work paid off; I worked on everything as a player," he said.
 Unfortunately he couldn't accomplish his second goal and that was winning a Long Island Championship with his team. That was also one of his biggest tasks this year to get as a team and as an individual. "I wanted to win the Long Island Championship, and going back to play for a ring with my brothers." Even though the Hurricanes came off of a tough loss against East Islip that didn't stop Jaden from playing football.
Jaden ended up committing to Division 1 college LIU (Long Island University) on a full scholarship. He will now be joining the Sharks with McIntyre. As he starts to get closer to college for football and for academics at LIU, he said, "I want to continue working hard, getting stronger, faster, and quicker for the next level of football."
After overcoming so much adversity as a player and as a human Jaden ended up with amazing numbers and the best player in Suffolk County to end his season both on offense and defense. Next step for Jaden is to be the next big offensive star at LIU. How will Jaden handle the college level of football?