Dylan Laube Brings Home the Hansen Trophy
Hang on for a minute...we're trying to find some more stories you might like.
What we've all known for some time is finally official:  Dylan Laube is the best football player in Suffolk County.
Last night, Dylan was named the co-Carl Hansen Award winner, sharing the award with Jeremy Ruckert of Lindenhurst.
Having the Hansen Award finally be awarded to a WHBHS student is exciting for the WHB community.  Carl Hansen was a very successful coach, principal, superintendent and athletic director during his time spent at WHB.
Hansen was named one of the founding fathers of Suffolk County Athletics, and the WHBHS football field and the Carl Hansen Award are named in his honor. This award goes to the most outstanding high school player in Suffolk County, and the highest honor award a football player can receive.
Dylan also took home the Joe Cipp Award for the second year in a row, which is awarded to the County's best running back.  This year, he scored a Long Island record with 47 touchdowns and rushed for a school record 2,680 yards on 249 carries.
In his career at WHB,  Dylan racked up an astonishing 6,495 yards rushing on 687 carries for 101 touchdowns.  He caught 64 passes for 1,234 yards and another 14 TDs.  He returned five kicks for touchdowns.
Athletic Director, Mrs. Masterson, said, "The Carl Hansen Award would solidify Dylan's place in history of Hurricane football, aside from the rest of his memories and accomplishments here at WHB, it would be the icing on the cake."
Dylan has made his mark in history here at WHB, and will be remembered as the best football player in WHB history.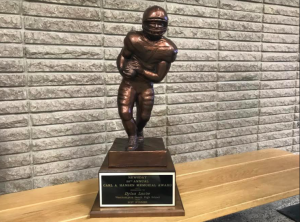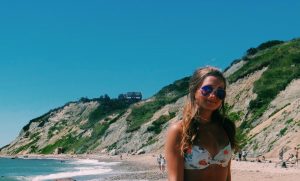 Brittany Gaugler, Staff Writer
Brittany, a senior at WHBHS, is in her first year of writing for The Hurricane Eye. She moved to Westhampton Beach from Southamptonas a sophomore. She...