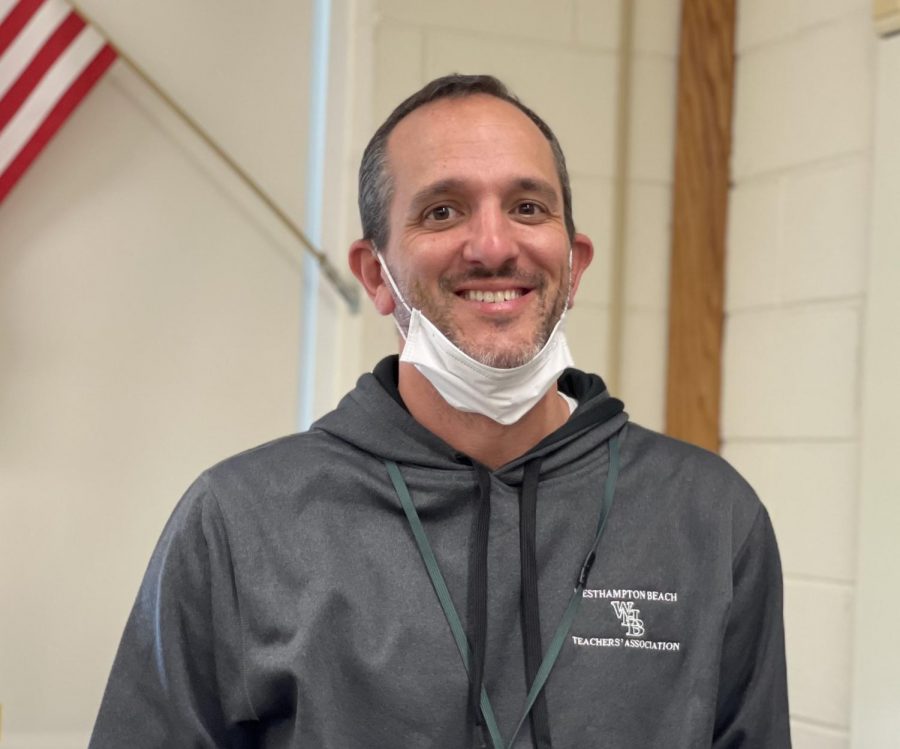 Passing by classrooms in the halls, we hear the lectures going on by teachers who we might not know anything about. All we know is the information that they teach us, but may not focus our attention on the teacher themselves or about the path they look to get to WHB.  But maybe we should. Instead of tuning out or putting headphones in at the beginning of class, take the time to listen and learn more about the individual who spends their time preparing us for our futures. 
To learn more about the history of social studies teacher Mr. Rupertus, we must sit down in room 108 and take a stroll down memory lane. 
It all began in high school, where he first became interested in becoming a history teacher. "I always liked social studies in high school and the stories that history allows to be told." Working a job that required him to sit behind a desk from 9-5 was something that he despised, which he quickly realized when he had to work jobs like these in high school. 
Next came time for college. Freshman year he first majored in psychology, but as the year progressed, he learned that it was not for him. He said, "I started as a Psychology major in college but realized early on that there was a lot of science involved which wasn't my favorite subject. So, at the start of my sophomore year, I switched over to a major in History with a minor in Secondary Education." He explained that both of his siblings are teachers, and his father also taught for a few years after graduating college. One might say that it's in the Rupertus genes. 
This brought him to his first teaching position in San Francisco, where he stayed for about two years before deciding to return closer to his home in Philadelphia. After this, he got hired at an all-girls Catholic school in the Bronx where he was at for 11 years. He explained that, "For a bunch of reasons including the school being close to closing, I decided to look for a job in a public school on Long Island." This is what led him to interviewing here at Westhampton Beach High School, where he has been ever since. 
Over the years, Mr. Rupertus has loved working at WHB. He said, "I've been at three different schools over the past 17 years and WHB is without a doubt the best place I have worked."
His students also seem to appreciate him as a teacher and as a person. Sophomore Emma Davis currently has Mr. Rupertus for AP World History II and shared, "Mr. Rupertus is a very good AP World History teacher. He is very fair and tries his best to give each student a chance to succeed. He also tries his best to make a connection with each of his students to help them learn on a better level.." 
One of his favorite things about teaching is that everyday is all different. "No matter what Tuesday was like, Wednesday will be a totally different day. Students come in with a different energy; my lesson is different, so everything feels fresh."
Sophomore Mina Jaromey explains what she likes about how Mr. Rupertus makes her school life just a bit easier. "He asks the students the input and teaching technique they would like to use for each unit. He also makes class funny and updates everyone on current affairs before class begins. He has attentive teaching skills and the nature of caring for each one of his students, which makes him a great teacher and a great person." 
Although history is something that cannot be changed, the future is unknown, and who knows what is in store for the rest of the time at Westhampton for Mr. Rupertus.  We have a feeling there are good times ahead.