Yankees Fall Short Again, Lose to Astros in ALCS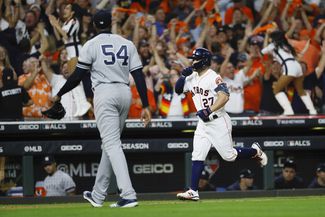 Jayson Babcock, Sports Editor, Staff Writer
October 22, 2019
It was a magical season for the 2019 New York Yankees.
Winning 103 games, the Yankees broke the record for most players injured in a single season with 29. Players most fans have never heard of produced in the biggest of ways throughout the year. Most teams with the amount of injuries the Yankees sustained would have fell flat on their face and would look forward to 2020. The 2019 Yankees were not this way. However, October is a different animal. 
October. The most exciting month for baseball fans, as the postseason begins with two wildcard games, and ends with a best of seven series for the World Championship. This year, the Yankees would face off against the Minnesota Twins in the American League Division Series with the Yankees winning first three games, thus completing the sweep and a ticket to the next round.
The Houston Astros defeated the Tampa Bay Rays in a rather unexpected competitive ALDS ending with right hander Gerrit Cole shutting down the Tampa Bay offense, and sending them to a date with the Yankees. 
Houston won 107 games during the season, a major league best, meaning they would have home field advantage during the series. The Yankees were the underdogs for sure, but it would be no easy battle for the Astros. 
The Yankees took Game One in a surprising fashion, winning 7-0. But Houston would respond, winning three consecutive games, with two being at Yankee Stadium. 
The Yankees were facing elimination in Game Five, but James Paxton, who pitched six innings of one-run ball, and Aaron Hicks, who hit a three-run home run in the first inning off the foul pole, played exceptionally well extending this series to a Game Six.
Game Six could not start any worse than it did for New York, as Yuli Gurriel launched another three-run home run to left field, giving Houston the 3-0 lead.
Fast forward to the ninth, with the Yankees down two against the American League Saves Leader, Roberto Osuna, DJ LeMahieu hit a towering fly-ball to right just carrying into the first row in the seats tying the game and sending Yankees fans into hysteria. 
Unfortunately, that magic moment would be wasted with the 2017 American League Most Valuable Player, Jose Altuve, hitting a walk-off two run home run to win the game and send the Astros to the World Series for the second time in three years.
A heartbreaking loss, the summary of the series. The Yankees could not get that big hit when they needed. They could not get that big out when the moment was right. The Houston Astros will face the Washington Nationals in the World Series. A matchup that will contain six of the top 15 pitchers in baseball.
Game One is on Tuesday, October 22nd, and if the series goes to Game Seven, Wednesday, October 30th.