Giving Thanks in November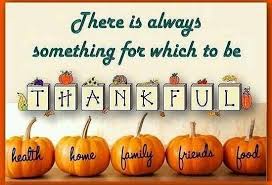 This is amazing! At the beginning of November, WHB students were asked to participate in a building-wide gratitude activity.  Students shared something they are grateful for on an index card which was then made into a display in the high school

.  Traditionally, November is the month where people should start saying thanks to everyone in their lives and start being grateful for their things. 
Being grateful is very important because it makes us feel better about ourselves. Saying thanks to your loved ones for any reason makes them feel special and that you care about them. 
There are many ways to be grateful. For example, you should never be picky about anything because you may have everything you could possibly wish for, but others don't. So we all should be grateful for what we have and who we have in our lives. 
Another way to be grateful is to be able to spend as much time with loved ones as possible. Our loved ones won't be around forever, you never know when the day for them to finally rest will come by. So always remember to thank that person or those people in your lives for everything they have done for you. 
Everyone should be grateful for something. We should be grateful for the money we make, even if it's not much. We should be grateful for our friends, our parents, our homes, our rides to schools or any other place. 
Being grateful is very important. So If you haven't already, go ahead and tell your loved ones thank you for everything!