Babcock's Fresh Take on Baseball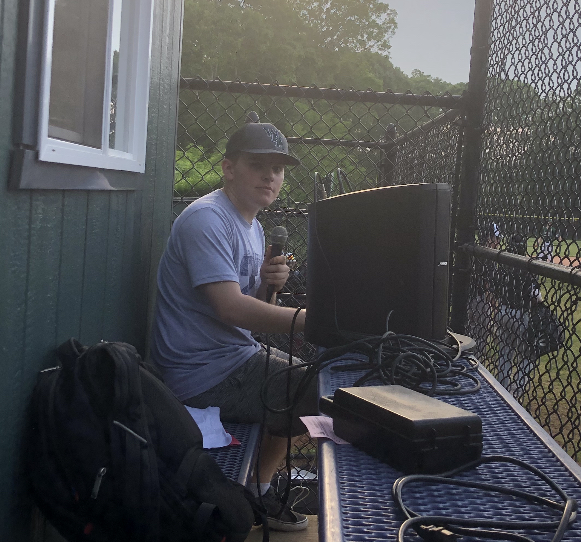 Westhampton Beach is usually thought of as a football school. The varsity team has been on a roll the past few years and Friday night home football games are a big part of the community. Many of WHB's other sports teams and their games haven't gotten the same hype. But this year, varsity baseball games have been reinvented with a new energy. And much of this resurgence can be credited to the announcer, junior Jayson Babcock.
Anyone who knows Jayson knows of his passion for baseball. From trivia to play-by-play analysis of his favorite team, the New York Yankees, his knowledge runs deep. Jayson wrote for The Hurricane Eye during the 2019-2020 school year and served as its Sports Editor. As editor, he wrote many articles about baseball and reviewed sports articles before being posted. 
This year, Jayson has been the announcer for home games of the varsity baseball team. Previously, there had been no announcer for baseball games the way there was one for football and there wasn't much excitement about the games. "Baseball hasn't gotten the same love football has so I wanted to change that", Jayson said. With that, he was inspired to start something new at Westhampton.
After talking with Dr. Herr and athletic director Ms. Masterson, Jayson started announcing the games this year. During the games, he introduces the players as they come up to home plate and gives them walk up songs. According to Jayson, this gives some energy to the players and creates a fun atmosphere at the games. "The players like what I do", Jayson remarked. "I've gotten great comments from them about the energy that surrounds the games since I've been there". 
This summer, Jayson will be the announcer for home games of the Long Island Aviators baseball team. Games will take place at the WHB elementary school baseball field, the same location of the varsity games.
Overall, Jayson has put a lot of hard work into reenergizing baseball games at WHB. Combined with the hot streak the varsity team is on, baseball is back to stay. Keep up the great work Jayson!