Girls Tennis On the Road to LIC (again)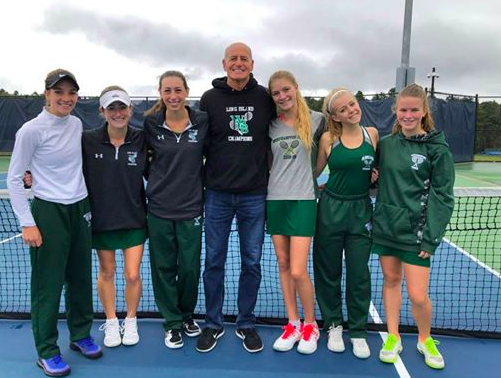 The girl's tennis team is coming back to this season with a chip on their shoulder, coming off one of the best seasons in school history for the team.  The team plans to return to LIC,  even after losing five seniors to graduation. 
The team finished with a perfect record last year and currently undefeated. Coach Ski said, "I've never seen a team work harder after winning a championship, they all really want to be a part of the bigger picture, and win LIC again."
 Coach Ski feels he has one of the hardest working of girls ever. Senior Rieve Delise, who plans to contribute to the team's effort to make it back to the Long Island Championships, said, "It requires me and the other seniors to step up, and set an example for the rest of the team."
The amount of work the seniors have put in really shows on their on-court performances. With many of the matches result in the Hurricanes completely sweeping the other team." We all try to show up to every practice with a lot of energy and set the tone for the rest of the practice," said Helena Jones.
The girls currently have 31 game win streak spanning from last season.  Good luck to the girls in the county tournament!