Hurricanes Get Ready For a Historic Season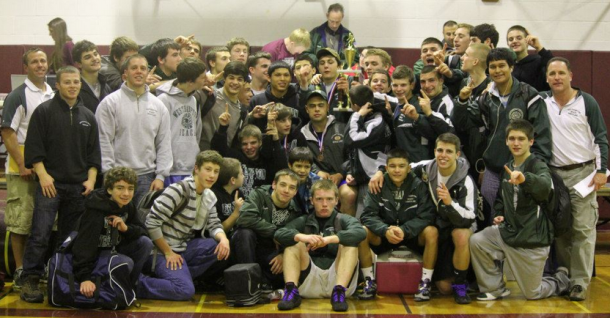 A nice mix of experience and youth look to make this year's wrestling season one to remember.
The Hurricanes took Sprig Gardner by storm on December 8th by taking first place overall and finished with six tournament champs and numerous other wrestlers reaching the podium.
Earlier in the week when senior captain, Alex Tanzman, was asked what wrestler would have the biggest impact on the team he said, "Brian Corrigan" and he was right – Corrigan upset two All-County wrestlers on his way to winning his weight class at his first tournament.
This year's wrestling team is shaping up to be one of the best teams the school has  ever had and their dominance at the Sprig Gardner shows that the wrestlers are starting a season that is going to leave a mark in the history of Westhampton Beach athletics.
The team has 11 seniors this year, which is more than double the four seniors the team had last year. Coach Bass said, "I like this year's team.  We have a nice mix of experience and new guys with good leadership and depth in the roster."
The expectations around the team are all the same. Coach Bass said, "As always I expect us to compete for a league title and to be one of the top teams in the league title."
Come out and support Hurricane Wrestling on our journey to a league title. The varsity team had a tough two-day dual meet tournament last weekend, on December 15th and 16that Center Moriches with some top teams that include Brentwood, Central Islip, Hauppauge, and Syosset.