2018 Summer Bucket List
Hang on for a minute...we're trying to find some more stories you might like.
The moment we've all been waiting for… summer is finally here! Now, what is on your bucket list?
Here are the things WHBHS students suggest you squeeze into your 10 weeks off from school:
Jump off Turkey Bridge
"Turkey Bridge," or the bridge at the end of Main Street going into Quiogue, is just big enough that you can jump, be scared for a bit, but end up safe in the end.  The thrill of the jump captures the excitement of summer. Sophomore Luke Farnan offers advice, "Wait for high tide and go feet first! I've done it 3 times before and I plan on doing it again this summer because it gets more fun each time."
Learning How to Surf
Hang ten with the best of the best this summer! You can without a doubt catch surfers at every beach down Dune Road and all the way to Montauk. Southampton Town Parks and Recs offers affordable lessons in July and August for beginners and intermediates. Go to southamptontownny.gov for more information or check out your local surf shop!
Shark Fishing in Montauk
Believe it or not it's possible to break the wide fear of sharks shown in the movie Jaws that was captured in Montauk. Charter a boat off Montauk for a shark fishing experience like no other! Trip Advisor lists 46 different boats to explore the waters off Montauk. If things get dangerous, remember to punch the shark in the nose!  Junior Cole Henke said, "I like fishing and going out to Montauk so I think it would be fun to attempt to catch a shark in one of my favorite spots."
Hot Dog Eating Contest
Coney Island hosts an annual hot dog eating contest every July 4th to see who can down the most hot dogs in just 10 minutes! The world champ Joey Chestnut downed 72 dogs last year. Can't make it to Coney Island? Create one in your own backyard with some friends! Get grillin'!
Summer Concerts
Get in the spirit of summer with your favorite artists at Jones Beach for the BLI
Summer Jam on June 15th including Shawn Mendes, Marshmello, Alessia Cara and more! If you can't catch this one, don't miss Beyonce and Jay Z at Metlife Stadium August 3rd for a summer night to remember!
Summer slips by before you know it, so create your own bucket list and fill your summer with memories you won't forget. Make summer 2018 the best one yet!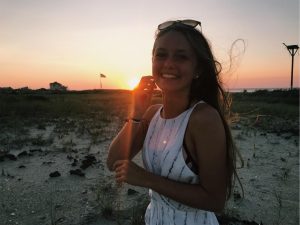 Paige Rignola, Staff Writer
Paige, a junior at WHBHS, has lived in Westhampton with her family since she was 2 years old and is very close with her three older brothers who all attended...