Bye Bye Birdie at the WHBPAC
Hang on for a minute...we're trying to find some more stories you might like.
The Westhampton Beach Art's Academy put on a teen production of Bye Bye Birdie at the Westhampton Beach Performing Arts Center this past weekend.
This production, consisting of 23 actors, 7 crew members, 1 music director, choreographer, and director, was a enjoyable for people of all ages.
Bye Bye Birdie is a popular musical from the 1960s about pop star Conrad Birdie (played by senior Luke Bester) who was drafted to the army. His fans are devastated, especially his songwriter Albert Peterson (lead actor, sophomore Spencer Moyle).
Albert's longtime girlfriend, Rosie (lead actress, sophomore Paige Garrett), pushes Albert to write a new tune that Birdie will perform on television to a fan, young Ohio teenager Kim McAfee, which makes her boyfriend Hugo (freshman Josh Kaplan) extremely jealous.
The WHBPAC's show consisted of actors from ages 12-16.  Sophomores Molly Brennan and Rachel Frank and junior Julia Donato also starred in the show.   With fun, upbeat theatrical music, the cast had everyone bopping along to the music.
The first performance on Friday was a huge success, but Saturday night had some unexpected twists. Before the show on Saturday, the music tracks were lost due to a mistake by the music track company.
Luckily, we were able to gain back the tracks with all of the music. Unfortunately,  some of the tracks were different than the ones that the cast practiced and used for the shows.
Spencer said, "We had no idea what was happening and didn't recognize the tracks. But we also knew we couldn't stop in the middle of the show so we pushed through."
However, like the professionals they are trained to be, the cast was still able to pull off a flawless performance!  Paige said,  "Saturday's show was our best show because we were on out toes, just like the audience, not knowing what was going to happen next!"
English teacher Kirsten Mett, who was at the show Saturday night, said that she "didn't notice a thing!  The performance seemed flawless.  I had to keep reminding myself I was watching high school students!"
Although there was some bumps in the road, the Bye Bye Birdie cast was able to pull off two successful shows!
Go to whbpac.org to see a list of upcoming shows!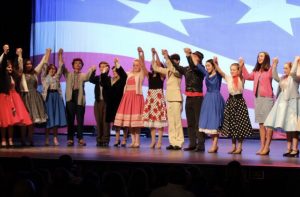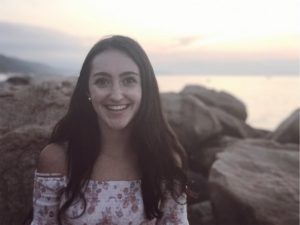 Molly Brennan, Staff Writer
Molly, a sophomore at Westhampton Beach High School, is passionate about singing, acting, and everything to do with the performing arts! She consumes her...