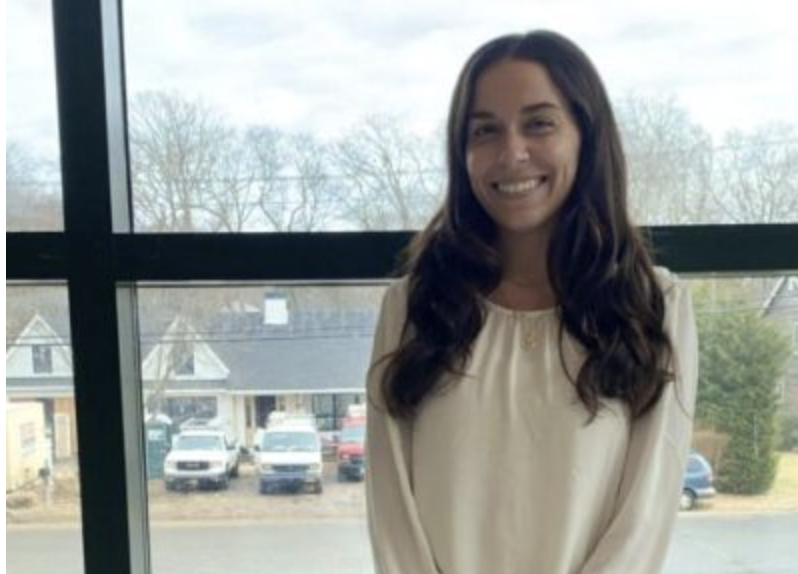 We're halfway through the school year and many teachers have become familiar with their students. Almost through her first year, Ms. Ottinger is a new teacher at WHBHS! She is currently teaching Trig Applications, AP Computer Science, and Geometry to WHB students. 
Ms. Ottinger originally worked at Schreiber High School, where she taught Algebra 1 and 2 to freshmen and sophomores. Before teaching Algebra, she student-taught at Hempstead Middle School. Ms. Ottinger, a SUNY Cortland graduate, is proud to say that her college is "home sweet home!" She's had the best experiences that have set her up to continue to thrive outside of her college.     
Ms. Ottinger has been looking forward to coming to WHBHS. She wanted to change her way of life. "It was a lifestyle decision," she explained. "My fiance went to school here. I have always traveled to WHB and I really wanted to live out here." 
She viewed WHB as somewhere she could live long-term to start a family with her new fiance. While her excitement of coming to WHBHS was clear, she had assumptions on the environment of our school. "When I first told people I was going to work at Westhampton Beach, people assumed that everyone was beachy," she stated. However, her experience at WHBHS was proven wrong when she learned that "there's a diverse population of people with different hobbies and interests."    
Since her arrival to our school, she has enjoyed the many benefits that our school has to offer. For instance, "We start earlier and get out earlier," allowing for that sense of free time. 
"The 40 minute periods allows for students to be more engaged with the work and more hands on," she said. At previous schools her school periods were much longer causing students to lose focus and get easily distracted as the time went by. The close knit family that our school presents between the teacher and staff relationship allows for Ms. Ottinger "to develop relationships faster."
In the classroom, many of her students have proven why she's a positive addition to our school. She has the best personality and she helps her students achieve success. "She has extra help everyday and she thoroughly explains everything," said freshman Matilda Buchen. Her students feel confident in their studies and encourages them to reach out for help. Even when she's not teaching math, "she has tight bonds with students where we can talk to her about anything" giving her students the sense of trust and guidance.
While being a supportive teacher, Ms. Ottinger has motivated her students to be the best version of themselves.  Senior JohnPaul said, "This is a class where you can have fun and feel relaxed.  Ms. Ottinger is one of the nicest teachers who provides you with that support you need. " 
Ms. Ottinger is a fun-filled addition to the WHBHS family. In the short time she has been a part of the school, she has truly made her mark. Welcome to the Hurricane family Ms. Ottinger!