Sophomore Boys' Spin on Spirit Week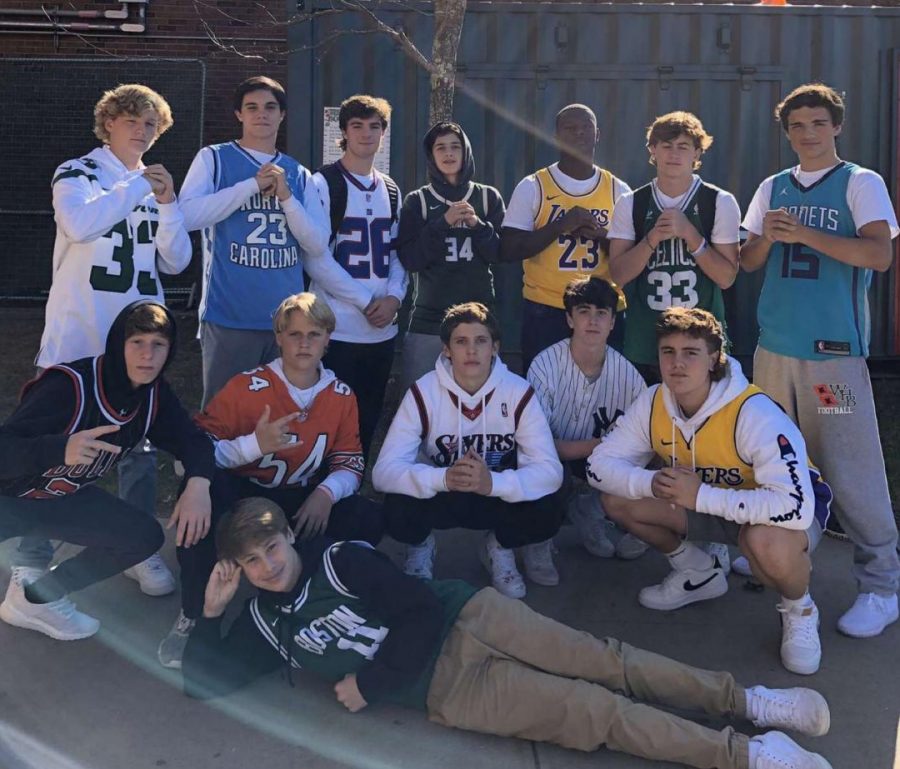 WHBHS sophomore boys this year took a spin on Spirit Week with their own ideas.
Terrall Faines, sophomore at WHBHS took charge as he felt that because Spirit Week is biased and more towards the girls that it was time to make a change in the school. 
Terrall made the idea a week prior to the Spirit Week, but only told the boys about this two nights before the actual Spirit Week. About 50 boys decided to participate; even though 30 kids were originally in the groupchat. 
Terrall and the boys came up with the following days of White Shirt, White Shoes, and Khakis Day; New York City day (a.k.a Timbs Day), Pink Day, Jersey Day, and Gray Out. 
Terrall felt that the student government ideas were good, but they were sexists towards one gender, making him want to change the ideas with a group of friends.
Dr. Herr, the principal at WHBHS feels, "I would ideally want them to go with the rest of the class." But he was impressed by the amount of kids, and that they were able to pull it off with such a large number of boys. 
Even though some people felt that the sophomore boys were not showing school spirit. Dr. Herr on the other hand thought, "They showed school spirit by going against the grain, while still participating in Spirit Week showed the spirit they have for the school." 
Dr. Herr would like to add, "It sounds like they wanted their voices to be heard and trust me we are listening."
Senior Molly Brennan, Co-President at WHBHS, just had her last Spirit Week. Molly and Senior Sophie Waszkelewicz held a student government meeting where the student filled out what they wanted to for Spirit Week in a google form.
Molly said, "This year the officers and I were really looking to spice up Spirit Week so that everyone would want to participate." 
Being that it is her last year here at WHBHS, Molly thought it would be fun to do fun days like Decades Day and Western Day to change it up a little.
Molly was not aware of the boys dressing up until the end of the week. Molly felt it was funny but they should've been with the rest of the school. 
Molly's favorite day that the boys did was Jersey Day because "it is always a classic Spirit Week day so it reminded me of my previous high school years." 
Even though the boys did not go with the rest of the school, they still dressed up and that is what Molly likes to see.
Sophie Waszkelewicz is Co-President with Molly Brennan and was aware of the Spirit Week the sophomore boys Spirit Week because of her younger brother who is 10th grade. Sophie said, "The point of spirit week is to bring the school together to support the football team, and prompt excitement for homecoming. By creating their own days, they created a divided environment around the school and went against the purpose of dressing up." 
Sophie believes that spirit week is the time for the school to show their spirit towards the football team. But the sophomore boys decided to take it into their own hands and create their own Spirit Week.
Even though over 30 boys participated; Ryan Traynor, Aidan Kellachan, and Vincent Pesce shared their intake on their own Spirit Week.
Ryan Traynor a sophomore at WHBHS said, "The other days weren't really fun or appealing to us." So he decided to join the rest of the boys to make their own Spirit Week.
Sophomore Aidan Kellachan thought the student government ideas were "very feminine."  Aidan didn't dress up for the actual Spirit Week days because most of the days he wouldn't be able to find in his closet.
However, he felt their point was heard.  "Many people asked why were doing it. It turned heads, making our point heard," he said.
Another sophomore, Vincent Pesce, participated in the new and improved Spirit Week the sophomore boys created. Like most of the boys Vincent wanted his voice to be heard. "I just wanted our point to get across as a group that the school needs to pick spirit days that are good and everyone will do."
Even though the sophomore boys did not participate in the actual Spirit Week. They still showed their own type of spirit.